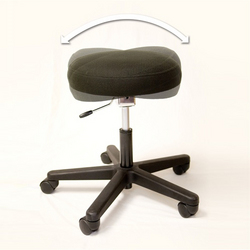 Through evidence-based research, as well as personal experience, we know that the human body is not physiologically suited for extended inactivity
Konawa, OK (PRWEB) February 25, 2009
New chair gets people active while sitting down

Eases lower back pain
Reduces static pressure and strain
New to Bad Back Store
A new chair has been released to help sedentary, desk-bound people to get active while sitting down, in an effort to ease lower back pain.
The new Active Balance seat from badbackstore.com, uses an Adjustable Dynamic Joint (ADJ) and enables the body to make small, constant movements to eliminate static strain and pressure while in the seated position.
In today's increasingly sedentary and technology-dependent culture, most people spend long hours sitting down, which is contributing to an epidemic of lower back pain - the biggest cause of workplace absenteeism next to the common cold.
"Through evidence-based research, as well as personal experience, we know that the human body is not physiologically suited for extended inactivity," says Felicity Wood, Marketing Director of Bad Back Store.
"A huge proportion of our customers come to us seeking products to remedy lower back pain, which is either caused or exacerbated by long hours sitting at a desk. The Active Balance seat continuously redistributes stress across muscles and ligaments providing a revolutionary way to reduce the harmful effects of prolonged sitting upon the human frame. And with the premium foam padding it's incredibly comfortable," explains Felicity.
The patented ADJ joint, which provides flexible movement in 360 degrees, allows you to exercise and strengthen core muscles to promote better posture while assisting with circulation and balance.
High-res images available upon request
Features:

Extra thick, premium foam padding for extra comfort
Enables the body to make small, constant movements to eliminate static strain and pressure.
Easily adjusts to control the desired range of motion.
Makes movement intuitive and natural
Promotes core muscle strength, circulation and balance.
Reduces strain in those tasks requiring posture flexibility
Locking casters to stop the chair from rolling
Patented Adjustable Dynamic Joint (ADJ) technology
Patent # T07027US, international patents pending
SGS tested for quality to ANSI/BIFMA X5.1-2002 standards
Media Contact & Further Information:
Michelle Ranells
Media Liaison
E: support (at) badbackstore (dot) com
P: TollFree 866-457-2225
W: badbackstore.com
Head Office:
625 State St
Konawa, OK 74849
High quality product and action images are available on request.
About badbackstore.com:
With increasing numbers of people suffering chronic back pain and seeking solutions, badbackstore.com is committed to providing information and resources to help ensure sufferers receive informative data enabling them to make informed decisions.
The site features high-quality, ergonomic products ranging from ergonomic chairs to lumbar support and massagers, with the selection largely driven by customer demand and feedback.
Our company directors have over 50 years combined manufacturing and marketing experience in the health industry. Supported by an energetic team of customer service, health professionals, technical, marketing and logistics specialists, we aim to make badbackstore.com number one for pain relief products and customer satisfaction.
Online visitors return to our site to access the latest innovations and developments in spinal care research, which is sourced from leading international research institutes, hospitals, government health resources and increasingly from government approved alternative therapy sources.
###