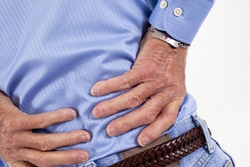 Matt has a great ability to target simple exercises for specific problem areas. It was so great the first time I could lie completely on my back without feeling intense pain!
Austin, TX (Vocus) July 15, 2010
"Matt has a great ability to target simple exercises for specific problem areas. It was so great the first time I could lie completely on my back without feeling intense pain!" stated a recent patient of Matt Moretta, PT, an Austin-based spine expert with Texas Physical Therapy Specialists (TexPTS). According to David Browder, DPT, OCS, physical therapist and Clinic Director at TexPTS in Austin, TX, "Surgery and drugs are not always the best first choice for back pain. Physical therapy is more cost efficient and has long lasting effects for limiting or getting rid of back pain."
Patients in Seattle, WA, give similar reports. The Wall Street Journal reported that the Virginia Mason Medical Center in Seattle, WA, reviewed their process for patients with back pain. Physical therapy was found to be the best first choice for the treatment of lower back pain. Patients who saw physical therapists had faster relief in back pain and returned to their normal life more quickly. Thomas Kundig, a patient with back pain from a rock climbing accident, reported that when his back would flare up he used to wait a week to see a specialist, have X-Rays and painkillers prescribed, and need an MRI. 'I was spending all my time in the doctor's office.' Thomas tried physical therapy and after 4 visits says his back is better now than it has been in a long time. 'I felt they were setting me up for more of a permanent solution.'
Research suggests that 4 out of every 5 people have had lower back pain at in some point. In February 2010 the Archives of Internal Medicine reported that the direct costs of treatment for low back pain in the United States are over $50 billion a year. This is more than half the amount spent yearly on cancer treatment.
According to the Mayo Clinic and the Centers for Disease Control and Prevention (CDC), most back pain is caused by muscle strain, awkward lifting of heavy objects, bad posture, weak core muscle strength and generally poor overall fitness. These factors can cause both sudden back pain and back pain that has been troublesome over time.
With many treatments available, patients may wonder, 'What is the best treatment for my back pain?' The answer is physical therapy with a specialty group like TexPTS, the Austin-based spine experts.
The therapists at TexPTS are experts in the non-surgical treatment of bone and joint conditions. They can help patients recover using hands-on physical therapy and supervised, targeted exercise. They also teach patients how to prevent future problems. In the July 2006 issue of the Clinical Journal of Pain, researchers found that patients who were seen by a physical therapist within 2 days of injury or pain reported less pain after 6 months than patients who waited 4 weeks before receiving therapy. Bottom line: seeing a physical therapist quickly means less pain in the long run.
The Austin-based spine experts at TexPTS can help decrease pain, reduce the need for prescription drugs, and prevent costly and painful surgery.
About Texas Physical Therapy Specialists (TexPTS):
TexPTS is a private physical therapy practice with locations throughout San Antonio, Austin, and Tyler. Known for teaching and training physical therapists all over the US, TexPTS physical therapists pride themselves in being spine experts. They deliver hands-on physical therapy based on the newest research to achieve the best results for patients with bad backs, achy joints, wounded hands, and work injuries. Along the way, the TexPTS family has fun and makes friends with their patients (and their pets, their kids, their in-laws, and neighbors….) Perhaps this is why they were voted the Best Private Physical Therapy Practice in the U.S. in 2009 by their peers in the American Physical Therapy Association.
# # #