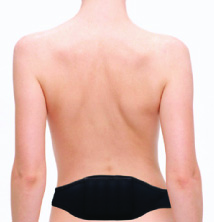 So, get one of our new therapeutic devices and enjoy your life free of pain. Wishing you a Merry Christmas and a Happy New Year!
London, UK (PRWEB) December 24, 2011
Christmas is a story of youthful fears, passion, and tears that gives readers of all ages hope for a better life. Fine Treatment, like the iconic Christmas image of Santa, brings to everyone's home healthier life free of pain. A fantastic Thermobalancing Therapy is something that everyone should use to get rid of pain naturally. For instance, it treats such common disorders as Sciatica and lower vertebrae conditions without painkillers and surgery. This unique therapy and is available Worldwide from Fine Treatment only.
The vertebral column is an important bone structure which protects the 'spinal brain' that is responsible for communication between organs and systems of our body. When we speak about the vertebrae care, we mean that attention must be drawn not only to the compact bones of the vertebrae but also to the complex tissues surrounding this bone structure which work together as the organ, i.e. the vertebrae.
Fine Treatment offers 2 unique Dr Allen's Devices for Lower Back Pain Care and Lower Vertebrae Care that treat Sciatica and intervertebral discs naturally, without recourse to herbal remedies or complementary treatments. The innovative devices treat the causes of back pain, including the problems in the vertebral column, and prevent the need for potentially harmful medication and surgical interventions.
Dr Allen's Device for Lower Back Pain Care
◊ Relieves sciatica pain naturally, without resorting to medications; eliminates other symptoms of Sciatica, such as numbness or weakness in one or both legs or around buttocks.
Dr Allen's Device for Lower Vertebrae Care
◊ Relieves pain and stiffness in your spine, and inability to stand or walk straight; improves nutrition of intervertebral discs enhancing the long-term recovery process.
"No current treatment methods for back pain are comparable with the first natural devices by Fine Treatment", says Dr Allen. "So, get one of our new therapeutic devices and enjoy your life free of pain. Wishing you a Merry Christmas and a Happy New Year!"
About Fine Treatment:
Fine Treatment, also, produces and distributes therapeutic devices for kidney stones and prostate, particularly, BPH treatment and chronic pelvic pain syndrome, for coronary heart disease and recovery after a heart attack.
About Dr. Simon Allen:
Dr. Simon Allen is a highly experienced medical professional who qualified as a medical doctor 40 years ago. He obtained a PhD in Medicine in 1978. He treated patients with prostate diseases, joints problems, kidneys and other health problems. Please visit Fine Treatment and get rid of pain: http://www.finetreatment.co.uk/natural-alternative/lower-back-treatment.html.
###