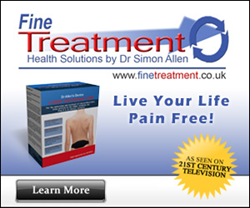 Dr. Allen's therapeutic devices treat organs of the body safely, helping people to maintain a normal life avoiding unnecessary pills and complications.
London, UK (PRWEB) June 01, 2013
The latest Bloomberg News, 'Ibuprofen at High Dose Raises Heart Risk' by Kitamura, May 30, 2013, analyses a review of 639 studies showing a potential danger of having a heart attack from newer pain drugs, such as ibuprofen or diclofenac, while another article says that the exacerbation of enlarged prostate symptoms can be caused by over-the-counter (OTC) medications after just a couple of doses of a "cold pill." In contrast, the use of the side-effects-free Thermobalancing therapy can help with a range of health conditions protecting from an excessive intake of medications, states Fine Treatment.
Other issues related to OTC drugs occur more quickly, states the article titled 'The Doctor is in: Read medication labels carefully', of May 30, 2013 in St. Charles County, Suburban Journal. Dr. Richard Murray says: "This past winter, one of my patients had to visit the emergency department after just a couple of doses of a cold pill. He was not able to urinate, and a catheter had to be placed to relieve his symptoms. He had a history of an enlarged prostate gland; therefore he should not have taken the pill containing a decongestant, since this type of medication may cause urinary retention."
Dr. Allen's Devices are absolutely harmless and show impressive efficacy. They work all the time while worn on the body, gradually restoring normal functioning of the affected organs. The users enjoy back pain relief, dissolve kidney stones, and diminish symptoms of heart disease and BPH without complications. For instance, the following video shows that prostate enlargement has been reversed with Dr. Allen's Device for Prostate Care without medications: http://www.youtube.com/watch?v=V5xidswhxJM.
Fine Treatment is also pleased to share a message from Gary and Diane, a couple from Florida, USA: "Since I purchased the device over a year ago, my PSA went from 8+ to below 4.0! I also wear the device by my heart since I've had 2 stents 3 yrs ago. My wife wears it also in her bra near her heart 24/7 and reports feeling much less palpitations!"
"Any medication, even OTC drugs, must be used cautiously as serious health problems may follow", says Dr. Simon Allen. "Dr. Allen's therapeutic devices treat organs of the body safely, helping people to maintain a normal life avoiding unnecessary pills and complications."
For details, please visit Fine Treatment at http://finetreatment.com/bph-treatment-prostate-enlargement.
About Dr. Simon Allen and Fine Treatment:
Dr. Simon Allen is a highly experienced medical professional. His specialty is in the internal medicine and cardio-vascular field. He has treated a wide range of chronic diseases, including patients after a heart attack, with kidneys problems, including kidney stones disease, prostate and spine conditions, as well as metabolic disorders. Fine Treatment exclusively offers Dr Allen's devices for chronic prostatitis and BPH treatment, coronary heart disease, dissolving kidney stones, as well as back pain and sciatica relief.