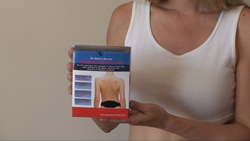 By applying Dr. Allen's therapeutic device straight to the affected area, the users get profound pain relief and effective natural treatment for the spine.
London, UK (PRWEB) June 09, 2013
Dr. Allen's Device relieves back pain naturally without resorting to painkillers, harmful steroid injections or lower back surgeries; it works by improving blood circulation in the affected area in the lower spine, Fine Treatment reveals.
New customer feedback from Santa Monica, California, shows that after 5 months of using Dr. Allen's therapeutic device, a senior lady with debilitating pain and severely impaired ability to move can now walk without resorting to painkillers. Her son has written, "For my mother your device did wonders. She is able to walk (not great, but still walking) and the pain is bearable. So luckily we do not have to think about surgery any more. The improvement was noted very quickly, within 5-6 days."
"Lower back pain treatment and relief without surgery can be a reality with the Thermobalancing therapy. Forget the surgery that will leave your bank account empty, or the painkillers that you will have to absorb for the rest of your life. Not only is this revolutionary device working fine for accident-related sciatica, it also slows the pain related to age," says Dr. Ralph Saint-Phard, MD, Lincoln Medical and Mental Health Center, USA.
The danger of steroid injections often used in chronic back pain cases is worth noting. A new article titled 'Many needlessly getting steroid injections for back pain' in NBCN-News on October, 18, 2012, sites Dr. Caplan: the quest for relief from pain has now resulted in the deaths of 19 people and a total of 247 confirmed infections of fungal meningitis from tainted steroid injections. Furthermore, back pain injections can cost as much as $600 per shot. Moreover, surgeries are more expensive and can also harm general health in the future.
Dr. Simon Allen's research on The Origin of Diseases explains the cause of degenerative discs changes, i.e. wear and tear processes occurring over time in the spine and responsible for pain. In order to restore the problem, the surrounding tissue reacts by increasing of the number of capillaries and thus the tissue around them swells. The spine has a strong construction which includes bones, discs, muscles and ligaments, so even a small swelling creates local pressure and, consequently, pain, stiffness and immobility.
Thus, the treatment has to be directed to the affected tissue in the first place. Please watch this video on how easy it is to use Dr. Allen's device for lower spine treatment: http://www.youtube.com/watch?v=6WwI1TvlXOs.
"The Thermobalancing therapy relieves lower back pain within days by tackling its cause, and a new user case confirms it vividly," says Dr. Simon Allen. "By applying Dr. Allen's therapeutic device straight to the affected area, the users get profound pain relief and effective natural treatment for the spine."
For more information, please visit the Fine Treatment website:
http://finetreatment.com/lower-back-pain-treatment-lumbago-relief/.
About Dr. Simon Allen and Fine Treatment:
Dr. Simon Allen is a highly experienced medical professional. His specialty is in the internal medicine and cardio-vascular field. He has treated a wide range of chronic diseases, including patients after a heart attack, with kidneys problems, including kidney stones disease, prostate and spine conditions, as well as metabolic disorders. Fine Treatment exclusively offers Dr. Allen's devices for chronic prostatitis and BPH treatment, coronary heart disease, dissolving kidney stones, as well as back pain and sciatica.