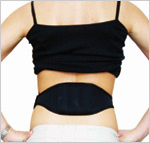 Sciatica and lower back pain in the lumbar spine region must be treated smoothly with Dr. Allen's therapeutic devices in the first place.
London, UK (PRWEB) April 10, 2012
Fine Treatment recommends new effective therapy for the lower spine problems and the inflamed Sciatic nerve that treats back pain naturally without exercises and remedies, drugs and surgery. Drugs and remedies stimulate the metabolic processes in the whole body assisting to recover from a problem but not treating it locally. It helps for a while, however, not for long. That is why the lower-back-pain sufferers look for a surgical solution. According to a 2006 study in the medical journal Spine, surgery rates rose sharply between 1992 and 2003, from three in 10,000 Medicare patients getting back surgery in 1992 to 11 in 10,000 in 2003.
Unlike potentially harmful medications and back surgeries, new Thermobalancing Therapy treats the inflamed tissue locally and by reducing the swelling in the lumbar spine region or around the Sciatic nerve that relieves the pain. Dr. Allen's therapeutic device creates an ideal environment for capillaries to stabilize the temperature inside the affected tissue, improving the blood circulation which cleanses the inflamed mass naturally. The users of Dr. Allen's devices get initial pain relief quickly. See the video how easy is to use Dr. Allen's device http://www.youtube.com/watch?v=kNqPVtqdSRo.
The first step of lower back pain treatment is to rule out an inflammation that cannot be done with exercise. Furthermore, sufferers with chronic pain should get an individual exercise program, as a problem in the vertebral column requires special needs. So, types of exercises have to be chosen carefully. According to the National Institute of Health (NIH), "the results of controlled studies with exercise programs have shown a positive effect on physical impairments and functional limitations for subjects with chronic low back pain. The outcome of exercise programs has not been so positive for disability, defined as an inability or a limitation in performance in social interactions including occupational activities."
"Drugs and a back surgery may cause one or more severe side effects, so it essential to use the Thermobalancing Therapy for the lower spine problems and sciatica treatment," says Dr. Allen. "Sciatica and lower back pain in the lumbar spine region must be treated smoothly with Dr. Allen's therapeutic devices in the first place."
Read more at http://www.finetreatment.co.uk/sciaticatreatment/lowerbackpaintreatment.html.
About Dr. Simon Allen and Fine Treatment:
Dr. Simon Allen is a highly experienced medical professional. His specialty is in the internal medicine and cardio-vascular field, and he has treated patients after a heart attack, with kidneys problems, including kidney stones disease, prostate and spine conditions. Fine Treatment exclusively offers Dr Allen's devices for chronic prostatitis and prostate enlargement treatment, coronary heart disease, dissolving kidney stones, as well as back pain and sciatica relief.