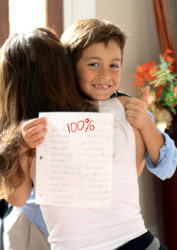 Yes, following these steps is a lot of work. But remember, nothing worthwhile in life is ever easy. And, there's nothing more important than your child. Try to implement these steps at home and you'll see better grades and a more self confident, self assured young learner
Ponte Vedra, FL (PRWEB) August 11, 2009
The truth is, when dealing with young children, there is a significant onus on the parent(s) to establish expectations, lead by example and outline the required parameters associated with school and grades.
What follows is the abridged version of our Back to School Guide - 10 Steps to Better Grades which outlines necessary life changes required to get your children on the road to academic success. To read the complete guide along with a parent survey and situational tips please visit BigIQkids.com.
10 Steps to Better Grades
1. Structure
Children thrive in structured environments. Your kids need to be on a schedule and have a clear understanding of what is expected of them each day.
2. Expectations
Aim high! If there are no goals or just general instructions like "try your best" children will invariably underachieve. We recommend setting lofty objectives. Communicate to your child that his/her JOB is school. A report card filled with A's is the goal.
3. Don't Procrastinate
Start homework as soon as your child gets home.
4. Daily Engagement
Not a day should go by without some kind of academic stimulation. Especially over the summer break. "Learning" must be a part of a child's daily life.
5. Diet and Exercise
Your child's dietary requirements are vastly different from yours. It is prudent to limit their intake of artery-clogging saturated fats and to avoid heart-harming trans fats, but following the low fat diet of an adult will lead to nutritional deficiencies.
Equally as important is exercise. Kids who are active will have stronger muscles and bones, be less likely to become overweight, have a better outlook on life and will sleep easier and longer.
6. Sleep
Lights Out! It's time parents understand the correlation between quality sleep and a child's ability to absorb, process, and learn. The American Academy of Sleep Medicine recommends children in preschool sleep between 11 and 13 hours a night and school aged children between 10 and 11 hours of sleep a night.
7. Praise
Following the rules should result in a reward. It's one thing to set out a list of demands for your child but it's another to praise them when they deliver. Hugs are free and give them generously.
8. RIF
Reading is fundamental. Studies show the more children read, the better readers and writers they become.
9. Role Model Needed
It's easy to set rules. What's difficult is walking the walk and being a role model your children can look up to for inspiration.
10. Communication
Without dialog, interaction, and sharing we have nothing. BigIQkids.com encourages every family to put a priority on traditional sit down dinners filled with conversation.
"Yes, following these steps is a lot of work. But remember, nothing worthwhile in life is ever easy. And, there's nothing more important than your child. Try to implement these steps at home and you'll see better grades and a more self confident, self assured young learner," says Debra Marcionette, President of BigIQkids.com.
To read the complete guide and learn more about BigIQkids.com and our award winning K-6 interactive learning programs in Spelling, Math, Vocabulary, and US Geography please visit BigIQkids.com.
###