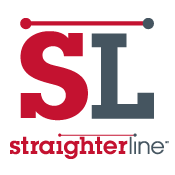 With more online courses we can provide more savings and more convenience which helps more students achieve their educational and employment goals. Burck Smith, CEO of StraighterLine.
Baltimore, MD (PRWEB) September 19, 2012
StraighterLine (StraighterLine.com) announced today the launch of four new online college courses to coincide with the Fall 2012 semester back-to-school period, bringing the total number of online college courses offered by the online education provider to forty-two. These courses, like the thirty-eight before them, have received full recommendation from the American Council on Education's Credit Recommendation service. Equally important, all StraighterLine courses exceed industry standards for identity verification.
The new courses are Business Ethics, Organizational Behavior, Western Civilization II and United States History II. These new courses expand the Business and Humanities departments at StraighterLine. These courses provide additional options to students who are looking to complete their core curriculum courses on their own schedule, or who need select required courses they may have been closed out of during fall registration. Both are being offered under StraighterLine's standard pricing plans and can be started the same day a student enrolls.
With greater course variety, students have the opportunity to save even more on their college education. StraighterLine's extremely flexible and affordable online college courses allow students to save up to 90% on their first year of college and help ease the burden of balancing a busy lifestyle while earning a college degree. Course credits transfer to StraighterLine's rapidly expanding network of partner colleges and universities or through the ACE Credit service.
According to a recent survey of students comparing StraighterLine courses to online courses from a typical college or university, StraighterLine's courses have been found to offer equal academic rigor but with more affordability, convenience and student satisfaction. Students earn real college credit and see StraighterLine courses help them complete a degree.
Currently, StraighterLine offers forty-two entry-level online college courses including College Algebra, Precalculus, Calculus I and II, Business Writing, Introduction to Biology, Introduction to Biology with lab, General Chemistry I, General Chemistry I with lab, English Comp I and II, Accounting I and II, Managerial Accounting, Macroeconomics, Microeconomics, Business Statistics, Business Ethics, Organizational Behavior, Anatomy & Physiology I & II, each with a lab option, Medical Terminology, Introduction to Psychology, Introduction to Business, Introduction to Criminal Justice, Introduction to Nutrition, Introduction to Sociology, Western Civilization I & II, Personal Finance, United States History I & II, Pharmacology I and II, Student Success, General Physics I, General Physics I with lab and two developmental courses.
"Our students have been clamoring for more courses," says Burck Smith, CEO of StraighterLine. "With more online courses we can provide more savings and more convenience which helps more students achieve their educational and employment goals."
About StraighterLine
StraighterLine has been recognized as a revolutionizing force in education by major news organizations and the U.S. Chamber of Commerce for offering students online courses that earn real college credit for just $99 a month. Fast Company named StraighterLine one of the "10 Most Innovative Companies in Education."
In order to facilitate the award of credit, StraighterLine has forged partnerships with leading accredited online colleges and universities. A student ultimately earns a degree from those institutions but realizes tremendous savings and convenience by starting with StraighterLine.
StraighterLine's courses are evaluated and recommended by the American Council on Education's College Credit Recommendation Service (ACE CREDIT). In addition to the institutions with which StraighterLine has a direct relationship, more than 300 other schools are reported to have accepted StraighterLine coursework for transfer credit.
Currently, StraighterLine offers 42 entry-level college courses online in the Sciences, Humanities, English, Math and Business. 5 StraighterLine courses have been approved by The College Board to be listed as AP courses: AP Macroeconomics, AP Microeconomics, AP English Language and Composition, AP Calculus AB and AP Psychology. And dozens of StraighterLine courses cover the same subject areas as CLEP exams, making them acceptable alternatives to or preparations for those tests.
For information, visit StraighterLine.com or call 1-877-str8erline (1-877-787-8375).
###