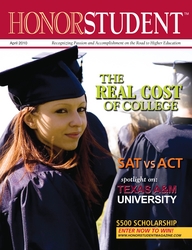 Because Honor Student Magazine was customized with our company information via an editorial spread, our feature provided instant credibility among our main target audience
Morrisville, PA (PRWEB) July 16, 2010
HONORSTUDENT Magazine, a new publication which profiles the top high school students from around the country, allows college preparation experts, financial advisors and admissions consultants to contribute to the publication and email newsletters; and to customize regional and national editions of the publication.
Launched nationally this year, HONORSTUDENT Magazine has established a following as it offers high school honor students, their parents and their guidance counselor's informative stories about preparing for college while it profiles students that excel in school, community, athletics, and leadership in its center spread. The magazine also awards a $500 scholarship each year to one outstanding student.
For college prep experts and financial aid advisors, HONORSTUDENT Magazine represents a unique marketing vehicle which can be customized to each sponsors needs. The publisher of the magazine allows regional sponsors to editorialize sections of the magazine, advertise their services and even brand small quantities of the publication with their logo and message to use as hand out at seminars and workshops.
"Because Honor Student Magazine was branded with our company information via a complete editorial spread, the customized version of the magazine provided instant credibility among our target audience," says Andy Lockwood, of http://www.CollegePlanningAdvice.com . "What a great tool for any company that is looking for a professional publication to add to their marketing arsenal."
"This is the first publication of its' kind that gives college preparation professionals a pre-packaged marketing tool which can help them spread the word about their services" says Rick Lyons, publisher of HONORSTUDENT Magazine. "We're looking for marketing partners and sponsors that need to reach and influence the unique 'prepare for college' community that we have created."
For more information on sponsoring the magazine, please contact the publisher at 215.595.6128 or visit the magazine website at http://www.honorstudentmagazine.com .
###