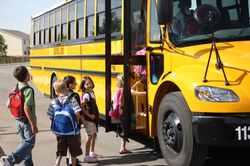 healthy sleep on the list of back-to-school necessities
Atlanta, GA (PRWEB) August 3, 2009
The lazy days of summer are about to end for many around the metro Atlanta area and the rest of the country. Children, teens, and even parents who have been free to sleep in until 9:00 or 10:00 in the morning will soon need to wake up before the clock strikes 7:00 a.m. Now is the time for parents to begin transitioning their children to an earlier bedtime. The National Sleep Foundation recommends that parents and kids put "healthy sleep on the list of back-to-school necessities" and recommends gradually adjusting sleep schedules at least one week prior to the first day of school.
Russell Rosenberg, Ph.D., the Vice Chairman of the National Sleep Foundation and Director at the Atlanta Sleep Medicine Clinic says that it is important for parents to recognize the change that back to school has on their own sleep as well. "Back to school is a tumultuous time for parents too. Many parents who were able to sleep later have to get up an hour or two earlier when the school year starts again. Parents of grade school and middle school kids are hit the worst because they have to make lunches and get their kids up and dressed as well. Nobody normally talks about the effect that going back to school has on parents, but it certainly does."
Deirdre Bowers, a parent in Snellville, GA, admits that her own sleep is affected when her kids go back to school in the fall. "Sorry to say, I've always been a late night person, not a morning person. So when I have to get my kids up earlier for school hours, I'm the one who gets sleep deprived the most!"
It is important that parents recognize that getting less sleep can affect disposition, learning ability, and recall. Parents with existing sleeping disorders need to be especially careful during this time of transition. Dr. Michael Lacey, the Medical Director of the Atlanta Sleep Medicine Clinic says, "Adding more sleep deprivation to someone with an existing sleep disorder such as insomnia or sleep apnea can throw him or her over the edge. This extra sleep loss can potentially harm mood, ability to function at work, and even negatively affect the entire family."
Parents should also remember that sleep is absolutely essential for children's performance at school. Angie Ledford, a parent from Loganville, GA says, "My kids have a hard time remembering things and keeping up in school if they are tired. Sometimes without enough sleep they will even get headaches."
The Atlanta Public School System recognizes that adequate sleep is an important component to a student's ability to learn and retain knowledge. The office of APS Superintendent Dr. Beverly L. Hall says, "We know from experience that a student's performance at school is dependent on the amount of sleep he or she gets the night before. A student who consistently gets enough sleep will have a higher academic aptitude compared to the child or teenager who is sleep deprived."
So how can you and your children transition successfully? Laura McHan from Lilburn, GA shares her advice: "Two weeks before school, I begin moving bedtime earlier by roughly 15 minutes a night. I also wake them up roughly 15 minutes earlier in the morning. I keep adjusting the sleep and wake times until we are where we need to be a few days before school begins. I learned this trick from Jodi Mindell's book, 'Sleeping Through The Night'".
The Atlanta Sleep Medicine Clinic reminds parents that transitioning children must be a gradual process. Going to bed earlier to change your schedule is not easy, it can't be done in just one night. As a result, parents and students who wait until the last minute will end up without the proper amount of sleep during the first few weeks of school.
The National Sleep Foundation recommends these sleep tips to help parents and children start the school year strong:

Gradually adjust to earlier sleep and wake schedules ten days to two weeks before school begins. This will set biological clocks to the new schedule.
Keep a regular sleep schedule, and avoid extremes on weekends. Having a regular bedtime increases the likelihood that kids -- including teens -- will get optimal sleep.
Establish a relaxing bedtime routine. Reading before bed is a good choice for kids of all ages and for parents.
Create a sleep environment that is cool, quiet, dimly lit and comfortable.
Keep television, video games and other electronics out of the bedroom. NSF's 2006 Sleep in America poll revealed that having electronic devices in the bedroom is associated with an increased risk of falling asleep in class and while doing homework. Eliminate exposure to electronic media (television, video and computer games etc.) within an hour of bedtime.
Limit caffeine, especially after lunchtime.
Eat well and exercise.
About The Atlanta Sleep Medicine Clinic
The Atlanta Sleep Medicine Clinic is a full service diagnostic sleep center that was established in 2008. It was founded by one of the early pioneers in sleep medicine, Russell Rosenberg, Ph. D, D.ABSM, and his longtime associate, Michael Lacey, MD, D.ABSM. The Atlanta Sleep Medicine Clinic is Georgia's first clinic to be affiliated with a well-known Sleep School, The Atlanta School of Sleep Medicine and Technology. For more information about The Atlanta Sleep Medicine Clinic, please visit the clinic's web site at http://www.atlantasleep.com. Media Contact: Laura Baareman, The Atlanta Sleep Medicine Clinic, (770)883-6679.
# # #