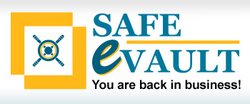 Dallas, TX (PRWEB) October 9, 2008
Outsourcing and virtualizing IT functions are two very effective ways to increase performance and quickly lower overhead. Why maintain costly computer hardware and software when there are service providers who can handle the operation and maintenance more efficiently and at a lower cost?
Data protection is one IT requirement most companies spend too much time, resources and money on, without even realizing it. Tape backup is the most common form of data protection and data restores in use today. Many companies think this is the best and most cost effective way to backup and protect one of their most valuable business assets - their data. This is far from reality!
The annual cost of purchasing and maintaining the tapes, storing them securely, and using them when restores are required is usually in the tens of thousands of dollars for most companies. Companies tend to overlook these costs because they are incremental line items inside the overall IT budget and also buried in general payroll.
Outsourcing the backing up of critical data is one of the best ways to increase the level of protection while decreasing the expenditure required to perform this vital function. The emergence of remote online data backup service providers is making it possible for companies to move away from expensive and antiquated backup strategies, like backing up with tape.
Remote Data Backup is a far more convenient solution than a tape backup strategy. Since the remote data backup solution allows for storage of documentation off site, the documents are far better protected. Also, there is no need for the purchase of tapes, so remote data backup ends up saving a significant amount of money in the long run. The convenience afforded to computer users via remote data backup is numerous; causing many that formerly relied on tape backup to switch services.
The economy looks like it will continue to deteriorate, so small to mid-sized businesses need to be ready for the financial challenges posed by this downturn. Outsourcing data protection strategies is one way to protect against loss of critical business data and lower overall business expenses in the process.
Tape backup users should contact a remote online backup service provider today and find out how simple it is to upgrade their data protection process, and save money while doing it. Most service providers offer a free 30 day trial so companies can experience the advantages of remote online backup over tape backups before they spend a dime.
About SafeEvault:
Our nearly two decades as an information technology service provider, and the new VBCN technology, sets us apart from other online backup service providers. Years of extensive calibration of sophisticated software, investment in the most advanced network devices and the latest security technologies, makes SafeEvault the leader in business continuity and online backup solutions.
Contact:
Greg Fanning, National Sales Director
SafeEvault
888-738-2858 opt.2
http://www.SafeEvault.com
###