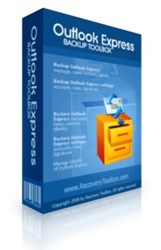 one of the company's most popular products that helps backup Microsoft Outlook Express in a fast, efficient and intuitive manner.
Alexandria, VA (PRWEB) November 26, 2012
Recovery Toolbox, a company known for its growing line of intelligent and easy-to-use products for data backup, recovery and repair, will be selling Outlook Express Backup Toolbox, one of its most popular products, with a solid 50% Christmas discount. The discount can be applied using the coupon code: bt50nyrtb on the checkout page and will be valid from November 24 till December 24, 2012 only.
Outlook Express Backup Toolbox is a powerful, yet compact and easy-to-use solution that helps all, even inexperienced users, to backup Microsoft Outlook Express data in seconds. Backup tasks can be run immediately or scheduled for the future using the standard Windows scheduler. For more convenience and security, backup data can be split into volumes of several predefined sizes, encrypted and password-protected. The software uses an intuitive interface to guide users through the backup and restoration processes and requires absolutely no prior experience of this sort. Unlike many competitors, it backs up and restores more than just messages – it creates a complete snapshot of the user's identity that includes emails, attachments, message rules, signatures, folders and more.
"Outlook Express Backup Toolbox is undoubtedly one of our key products that has been wildly successful for a very long time now. We wanted to make a pleasant surprise for those of our prospective customers who have been waiting for the right time to switch to our product. For a limited time only, it will be available with a hefty 50% discount, so use this chance!" – concludes Victor Bobrov, one of the program developers.
Enter coupon code during purchase: bt50nyrtb to get 50% discount!
Software description: http://www.recoverytoolbox.com/outlook_express_backup.html
Product site: http://www.recoverytoolbox.com/