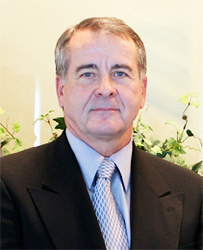 "I am honored to be included in the Super Lawyer list of distinguished attorneys," says Gene Backus, attorney with BACKUS • CARRANZA.
Las Vegas, NV (PRWEB) September 12, 2010
BACKUS • CARRANZA, a Las Vegas, Nevada-based litigation law firm, proudly announced the inclusion of Senior Partner Gene Backus as a Mountain States Super Lawyer for the fourth year in a row. The Mountain States Super Lawyers publication annually lists "outstanding lawyers from more than 70 practice areas who have attained a high degree of peer recognition and professional achievement." Backus has also been named a Super Lawyer by the national publication for four consecutive years.
Backus has been chief trial counsel or regional counsel in some of the largest complex cases in the country, including the MGM Grand Hotel fire litigation, DuPont Plaza Hotel Fire litigation, the PEPCON plant explosion, bone screw litigation and Kitec-fitting litigation. He has authored numerous articles and is frequently called upon to lecture on a variety of topics, including mass disaster litigation, computer use in litigation, litigation practice, construction law, claims presentation, insurance law, pharmaceutical and medical device litigation and a number of litigation and procedural areas of the law.
"The Super Lawyer organization's stated objective is 'to create a credible, comprehensive and diverse listing of outstanding attorneys that can be used as a resource to assist attorneys and consumers in the search for legal counsel,'" says Backus. "I am honored to be included in their list of distinguished attorneys."
About BACKUS • CARRANZA
BACKUS • CARRANZA handles construction, professional liability, complex and insurance litigation, and health care litigation and transactional matters. The firm represents hotels, general contractors, construction managers, subcontractors, design professionals, lawyers, physicians, hospitals, medical device manufacturers, product manufacturers, pharmaceutical companies and insurance companies. To contact the firm, call (702) 872-5555 or email Gene Backus at genebackus@backuslaw.com.
About Mountain States Super Lawyers
Mountain States Super Lawyers is published as a special supplement in leading newspapers and city and regional magazines throughout the region. Additionally, Super Lawyers magazine, featuring articles about attorneys named to the Super Lawyers list, is distributed to all attorneys in the state or region, the lead corporate counsel of Russell 3000 companies and the ABA-approved law school libraries.
Leland Eugene "Gene" Backus elected to:
Super Lawyers, Nevada Super Lawyers and Mountain States Super Lawyers 2010
Super Lawyers, Nevada Super Lawyers and Mountain States Super Lawyers 2009
Super Lawyers, Nevada Super Lawyers and Mountain States Super Lawyers 2008
Super Lawyers, Nevada Super Lawyers and Mountain States Super Lawyers 2007
###