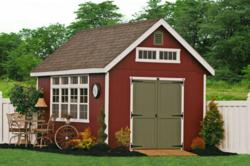 Manager Steve Jr. reports that sales of the new backyard storage barns and sheds have been pleasing.
Lancaster, PA (PRWEB) July 31, 2012
It used to be that an Amish backyard storage shed was a backyard storage shed. There was little variation in styles and choices throughout the storage shed and prefab garage industry. No doubt, manufacturers in Lancaster, PA offered varying options for their backyard storage sheds, barns and garages, but they were relatively few.
Newer storage shed designs from the Amish in Lancaster County are changing the model of portable sheds, barns and detached garages. An example of a new and attractive storage shed design is the Premier Garden Storage Shed line from Sheds Unlimited of PA. This new collection of sheds is proving to be an attraction which homeowners cannot resist. Unveiled earlier in 2012, manager Steve Jr. reports that sales of the new backyard storage barns and sheds have been pleasing.
When Sheds Unlimited unveiled the new line of backyard utility buildings in early 2012, their goal was to produce a premium line of Amish built storage buildings and backyard sheds. By adding a steeper roof pitch, plenty of windows and fancy dormer options, the Premier storage sheds line was designed to live up to its name. This newest line of backyard storage sheds offers a touch of beauty unmatched by many storage barns and sheds from the Amish in Lancaster, PA.
Garden sheds have been delivered to Pennsylvania, New Jersey, New York, Connecticut and Virginia. Backyard garden sheds and barns are also available for delivery in Delaware, Maryland, West Virginia and beyond. For those outside of the Sheds Unlimited delivery area, there are other options. Backyard shed kits can be delivered via common carrier throughout the continental United States and then assembled by the homeowner in the backyard.
The very attractive Premier car garages have created a strong sales base for the newest backyard garden line. Currently, Sheds Unlimited partially assembles the beautiful backyard car garages in the Gap, PA manufacturing facility then completes assembly on site. However, Steve Jr. reports that with the pending delivery of a new low riding backyard shed trailer to the Sheds Unlimited delivery team, Premier One Car Garages will be delivered as a complete unit.
Sheds Unlimited Inc. is a family owned and operated corporation which has been in the business of producing backyard barns, outdoor utility sheds and detached 2 car garages for nearly twenty-five years. Their decades of experience in the industry makes Sheds Unlimited a company which is both dependable and willing to go the second mile to please the customer.
For those looking to go to even greater heights with a backyard storage shed, Sheds Unlimited offers detached two-story sheds, barns and garages. The detached two car garages allow for many possibilities for the specific needs of the homeowner.
Whatever the need Sheds Unlimited offers backyard storage shed solutions that are both pleasing to the eye and are built with the quality standards of the traditional Amish construction standards.