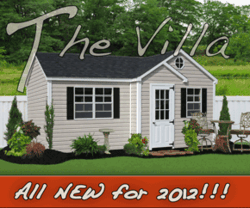 You may be able to find a cheaper shed, but you will not find a better one.
Burlington, NC (PRWEB) November 29, 2012
Liberty Storage Solutions, a North Carolina backyard sheds and prefab car garage builder has announced the recent opening of a third sales lot in the North Carolina Triad area. The newest lot is a means for this small family owned and operated backyard shed builder to expand their reach into more North Carolina neighborhoods.
For the nearly a decade, Liberty Storage Solutions has been producing backyard storage sheds and barns in North Carolina. Their business began small and has been steadily gaining ground in a sluggish economy. Backyard sheds and prefab car garages are marketed via the internet and from their North Carolina shed sales lots direct to customers throughout North Carolina. This new lot is just an extension of their first two lots in Statesville and Salisbury, NC.
Drive to one of the Liberty Storage Solutions sales lots in Statesville, Salisbury or Burlington and you will find an array of backyard products. There are backyard swing sets, vinyl and wooden gazebos, pergolas, playhouses, backyard sheds and portable car garages for customers to either purchase from the lot or custom order to meet their own specific need.
Founder and owner, Bobby Eaton describes their North Carolina storage sheds and prefab garage quality saying "You may be able to find a cheaper shed, but you will not find a better one." All of their materials and workmanship are number one, he says. But clarifies that their products are not perfect. "The perfect carpenter was crucified, and we are not him," he says, 'but we try to produce a quality product."
Also available at the new Burlington sales lot is the famous rent-to-own shed program. Liberty provides a very simple shed rental program where customers can customer order a backyard building and with a meager deposit have a backyard shed or garage delivered to their property. The rental building can be ordered with custom colors, lofts, shelves and the layout prefered by the customer and with a down payment equal to two months of rent, the building contract can be completed. The portable rental building can be paid off at any time during the rental period or after paying the monthly rental fee for three years, the building becomes the property of the renter.
The newest products on the Liberty Storage Solutions line is the beautiful backyard Clubhouse and Outdoor Villa Shed. Both have a touch of beauty unlike many backyard sheds and barns on the market. The Clubhouse features a front porch with railing while the Villa has a fancy reverse gable to make this building stand out from the rest.
Whatever the case, Bobby Eaton invites folks looking for a backyard storage shed or a prefab car garage to visit one of their three sales lots throughout North Carolina.