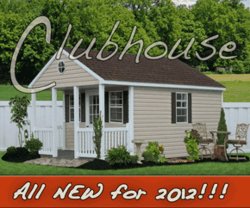 Service is something we stress very highly.....we want our customers to be happy. - Bobby Eaton - Owner of Liberty Storage Solutions
Charlotte, NC (PRWEB) May 30, 2012
This Spring Liberty Storage Solutions recently announced the opening of a new backyard storage sheds sales lot in the Triad of North Carolina. The new lot at 1480 Northside Drive, Statesville, NC 28625 is currently being stocked with outdoor mini-barns, wooden and vinyl storage and tool sheds, one car garages, gazebos, and kid's swing sets for interested customers to see. This is the second sales location to open in this general area, the first being in Salisbury, NC. Situated a mere 45 miles from Winston-Salem and approximately 60 and 73 miles from High Point and Greensboro respectively, they are poised to supply the Piedmont Triad with these quality outdoor storage sheds and prefab single car garages, vinyl and wooden gazebos and wooden children's swing sets.
The goal of Liberty Storage Solutions is to provide outdoor storage shed, backyard vinyl gazebo and swing set solutions to anyone within the Triad of North Carolina. Increasingly, Liberty Storage Sheds broadening their reach by offering their growing line of outdoor sheds and garden products to residents throughout the state of North Carolina. The addition of the Statesville, NC sales lot is one step further in that direction. Hours for the new storage shed sales lot are Monday to Friday 9:00am. to 5:00pm and Saturday from 10:00am to 3:00pm.
Liberty Storage Solutions has been in the business of manufacturing and delivering quality prefab storage barns, outdoor garden sheds and one car garages to customers in the area for over eight years. They began in 2004 as a small storage shed company and have been expanding their sales of sheds, gazebos and swing sets in North Carolina.
Liberty Storage Solutions is a Mennonite family owned and operated Limited Liability Corporation who have their beliefs in honesty and integrity as well as quality, hard work and dependability. "Service is something we stress very highly.....we want our customers to be happy," says the owner, Bobby Eaton. Delivering a quality outdoor storage shed, built to last for years to come, and arriving in perfect condition is the goal they set for themselves.
Now storage shed shoppers in the NC Triad have more options when searching for a backyard garden shed in NC, a vinyl gazebo for the backyard or a swingset in the NC Triad. One can visit the storage shed manufacturing facility at 935 Phifer Road in Cleveland, North Carolina or visit one of the two well-situated storage shed sales lots in the North Carolina. Visit the manufacturers website to find the locations of all three outdoors storage shed lots. At any location, customers are sure to find a wide selection of well-crafted utility storage buildings, prefab garages, swing sets and wooden and vinyl gazebos.
Liberty Storage Solutions also offer a rental storage unit option in which clients can pay a deposit to have a building delivered to their site. From then on there are monthly payments for 36 months at which time the storage shed or prefab rental garages becomes the sole property of the renter.