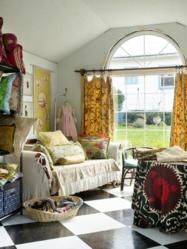 Mary Jane simply wanted a bright and inspired place to create
Doylestown, PA (PRWEB) October 31, 2012
When a Doylestown, PA entrepreneur thought of moving her home-based business out of the basement of her home, she decided to buy one of those Amish storage sheds in PA and transform it into a backyard studio workshop. Her dreams became reality after visiting Sheds Unlimited in Lancaster County, PA and placing an order on one of their custom built storage sheds built at the Gap, PA facility.
The idea began after Mary Jane looked one of those Amish storage sheds in her backyard she had an epiphany. Why not turn a storage shed into a backyard studio workshop? "Mary Jane simply wanted a bright and inspired place to create", writes Jane Dagmi. "The talented seamstress, who fabricates one-of-a-kind pillows, lampshades, and other soft goods from mostly antique European textiles, was tired of working in a dark, cold basement. She looked into renting a space in town, but the cost was prohibitive. She entertained building an addition onto her home, but decided against the cost."
Before long, she visited Sheds Unlimited INC in rural Lancaster County, PA where she purchased a 12'x30' Classic Storage Shed. The outdoor storage shed was custom fitted with a large window to allow plenty of light into the building as well as double glass doors to make the Amish storage shed not only a backyard studio workshop, but also a pleasant backyard retreat for the self-employed entrepreneur. Now Mary Jane could leave the darkness of her basement and enjoy working in the bright environment of the backyard workshop which also now serves as a backyard office for her small business.
After the storage shed from Pennsylvania was delivered, Mary Jane hired local contractors to install the insulation, electrical and the flooring on the backyard studio. Within a few weeks the storage shed from Sheds Unlimited was completed on the inside. The cheap storage shed had now become a very comfortable backyard shed retreat where she could develop her business. Walking into the transformed Amish storage shed one could feel comfortable using this cheap storage shed as a backyard getaway, a prefab shed office for the backyard or a backyard guest house. The comfortable feel of this backyard shed seems worth more than minimal cost Mary Jane spent to prepare the backyard studio retreat. When the studio workshop was completed, Mary Jane reports that she spent a mere $10,000.00 including the electrical hookup. She is very grateful to Sheds Unlimited for working with her to produce a storage shed that would meet her needs.
Who is Sheds Unlimited INC
Sheds Unlimited of Lancaster County, PA is a family owned and operated company which has been producing storage sheds in PA for nearly 25 years. They have continued to expand their line of products from simple backyard storage sheds to prefab one, two and three car garages and more recently two story sheds and garages. They offer attic car garages and double-wide garages which can be custom built and delivered and set up in PA, NJ, NY, CT, DE, MD, VA, WV and beyond.
An increasingly popular item at Sheds Unlimited is the Legacy Two Story Sheds and Garages. These buildings come as modular garages when they are narrow enough to pass on the road or Detached Two Car Garages for the larger models. The second floor of the two story sheds and barns provide plenty of space to create backyard spaces such as a garage with an apartment or a backyard shed with a second floor backyard retreat or getaway. One customer even bought a two story garage and plans to create a bed and breakfast on the second floor.
Chris Stoltzfus the marketing and design manager at the family owned corporation says "We are doing all they can to keep up with customer demand." 2012 has been another busy year with record sales as the demand for storage sheds in PA continues. And now that storage sheds can be transformed into backyard studios, prefab office units, backyard retreats and small backyard getaways, they expect demand for their products to continue to rise.