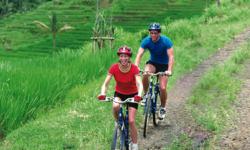 Our active holidays allow you to get closer to nature and provide more opportunities to connect with the local community.
Bangkok, Thailand (PRWEB) August 16, 2012
Bangkok-based Backyard Travel, Asia's most innovative tour and travel operator, today announced a great selection of tours in Asia for active travelers.
Holidays are said to improve health, and with Backyard Travel, travelers can maximize the health benefits of a vacation by incorporating fitness into their trip. With itineraries through Asia that include cycling, hiking, kayaking and other leisure activities, travelers can not only see more of their chosen destination, they can stay fit in the process.
Inspired by the global trend towards healthy living, active holidays are becoming more popular and Backyard Travel perfectly caters for this trend. In Laos, the four-day Pakse and Beyond tour covers the 4000 islands region, allowing travelers to explore this remote area by boat and bike. Waterfalls, ancient temples, bamboo and coconut farms and local villages are all part of this adventure – perfect for active travelers who want to make the most of limited vacation time.
For fit families, their Cambodian Family Adventure tour is packed full of exciting activities, including an overnight stay at a jungle camp, a Tomb Raider-style adventure through Angkor Wat, hot air ballooning, and a boat tour on the Tonle Sap Lake. Culturally rich, this educational tour not only keeps kids active, it allows them to interact with peers during a village school visit and to top it all off, there's the option of a helicopter tour over Angkor!
In Bali, the Active Ubud itinerary gets travelers thoroughly engaged in the spiritual center of the island. Delivering different levels of adrenalin throughout the tour, this package includes strolling through picturesque rice paddies, exhilarating downhill cycling, white-water rafting and the added option of volcano trekking. At the end of this action-packed tour, travelers can ease tired muscles with a trip to a spa that supports disadvantaged local families with education and healthcare.
Maeve Nolan, Backyard Travel's Operations & Product Director says "An active holiday with daily exercise, combined with time spent outdoors is the best antidote for a busy lifestyle. Also, our active holidays allow you to get closer to nature and provide more opportunities to connect with the locals."
Backyard Travel has a full range of bespoke and luxury tours through Asia. Every itinerary is carefully designed by one of Backyard Travel's on-the-ground local experts, to provide unique insights and deliver authentic travel experiences.
ABOUT BACKYARD TRAVEL:
Bangkok based Backyard Travel is an online travel company specializing in tailor made tours to Vietnam, Thailand, Cambodia, Laos, Myanmar, Indonesia and Japan. For more information about Backyard Travel, visit http://www.backyardtravel.com.