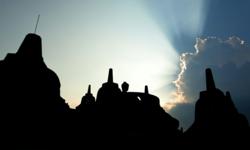 Java has long been a popular destination for its ancient culture, local lifestyles and spectacular nature, and it only continues to get more popular with Backyard Travelers
Bangkok, Thailand (PRWEB) October 18, 2012
Launching from the arts and culture capital of Yogyakarta, this six-day tour gives travelers the chance to see Indonesia's most stunning landscapes, meet intriguing local communities and learn about centuries-old Javanese traditions. From the lively urban environment of inner city "Yogya" to ancient ruins to volcanic craters, this journey promises an unforgettable experience in a fascinating region of Indonesia.
After a batik-making lesson in Yogyakarta, travelers embark upon a guided tour of the city's historic sites, including the 18th century Sultan's Palace, the Hindu temples of Prambanan and the eight-century Buddhist temple compound of Sewu. In the evening, guests are treated to delicious local cuisine while enjoying a traditional Ramayana dance performance. The following day, it's on to one of Indonesia's most famous sites – Borobudur – the world's largest Buddhist temple and a must-see for any visitor to Java.
A trip to Indonesia is not complete without a tour of one of the archipelago's volcanic zones. On this trip travelers take a local train to Kertosono and enjoy a chauffeur-driven tour onwards to the active volcano Mount Kelud, where a walk to the summit showcases breathtaking scenery – including an azure-colored crater lake and smoldering lava dome. From here, the journey continues to the second-largest city in east Java – the picturesque Dutch colonial retreat of Malang.
The other-worldly landscapes of Mount Bromo are another highlight of the tour. Heading out in the pre-dawn hours, visitors travel by 4WD to the village of Tossari – the perfect vantage point to enjoy sunrise over Mount Bromo, a popular landmark for travelers and a place of deep cultural significance for Indonesians. From here, it's onto Surabaya, where guests can sample the famous fresh seafood of Kampung Arab. Travelers have free time in Surabaya to wander the colonial streets of the Old Town or browse the colorful Arab market of Pasar Ampel.
Sales Manager at Backyard Travel, Sibylle Rotzler, says: "Java has long been a popular destination for its ancient culture, local lifestyles and spectacular nature, and it only continues to get more popular with Backyard Travelers. Experiencing the grandeur of Borobudur and Prambanan on this tour, and mixing it with local color on a village tour to Candirejo, is a fantastic way of seeing the highlights of Java. Going further east to see the colonial architecture of Malang or sunrise over Mount Bromo makes for the perfect holiday."
All Backyard Travel tours are created by expert consultants to provide unique experiences not available from any other tour operator. Tours can be customized according to the individual traveler's needs – for more information or to view all tours, click here.
ABOUT BACKYARD TRAVEL:
Bangkok based Backyard Travel is an online travel company specializing in tailor made tours to Vietnam, Thailand, Cambodia, Laos, Myanmar, Indonesia and Japan. For more information about Backyard Travel, visit http://www.backyardtravel.com. See their Facebook page http://www.facebook.com/BackyardTravel