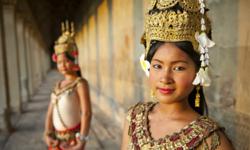 When we decided to release a new tour of Angkor, we took the opportunity to design it with adventure loving families who want to experience the best parts of Cambodia's ancient culture in mind
Bangkok, Thailand (PRWEB) February 01, 2013
The four-day, three-night tour bases travelers in Siem Reap, the perfect gateway to Angkor's ancient offerings. Said to be the place that symbolizes the soul of the Khmer people, Angkor is home to hundreds of ancient temples and ruins.
The tour begins with the unique perspective of a birds-eye view of Angkor Wat by means of a helium-filled balloon. Travelers will then explore the temple grounds on foot before enjoying a scenic sunset over the majestic complex.
Perfect for a family adventure, the unique tour also visits the city of Angkor Thom, the last capital of the Khmer Empire, a city protected by an eight-meter-high wall which creates a perfectly square barrier around the ancient city. After exploring the city on foot, travelers can then take a break with an elephant ride around the Bayon Temple, giving them another unique angle and perspective of Khmer ruins.
For those who've always yearned to be Indiana Jones or Lara Croft, the tour also provides the unique opportunity to live out that fantasy with a visit to Ta Prohm Temple. Used as the set of the 2001 film Lara Croft: Tomb Raider starring Angelina Jolie, travelers will have their imaginations awakened and skills tested as they are set a task to uncover the secrets of an ancient mystery that has gone unsolved for decades. A fun quest for all the family, the mission will be something that travelers will never forget.
Not only a temple tour, the 'Angkor Wat Family Adventure' package also allows the traveler the chance to explore Cambodia's countryside and community. Travelers have the chance to visit a small school in the region and join in with a lesson. If they wish, they can even take the opportunity to teach the school children an English song, before moving to a local temple to be blessed by a monk.
The tour also takes travelers to Tonlé Sap Lake, Southeast Asia's largest freshwater lake, where they can experience a boat tour to Kampong Phluk, a floating village built on stilts. There are also several extra optional experiences available, including visiting the Angkor Silk Farm, going on a quad bike or horseback ride around Angkor and exploring the ruins of Beng Mealea, a temple where visitors are permitted to climb and explore at will.
"As an innovative travel company, we are always trying to offer something a little bit different," said Backyard Travel's General Manager Maeve Nolan. "So when we decided to release a new tour of Angkor, we took the opportunity to design it with adventure loving families who want to experience the best parts of Cambodia's ancient culture in mind."
About Backyard Travel
Bangkok based Backyard Travel is an online travel company specializing in tailor-made tours to Vietnam, Thailand, Cambodia, Laos, Myanmar, Indonesia, Japan, and China. For more information about Backyard Travel, visit http://www.backyardtravel.com or Facebook page http://www.facebook.com/BackyardTravel.