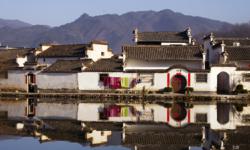 This tailor-made China tour takes travelers to visit an area that's often used in Chinese cinema, especially for period movies. Anhui Province is a breathtaking region and contains some spectacular sites and villages.
Bangkok, Thailand (PRWEB) February 14, 2013
The four-day, three-night tailor-made Anhui tour begins in Wannan, a region of fascination due to local architecture. Here visitors will be able to learn about the special characteristics of local houses, including the tianjing (black tile roofs nicknamed 'mirrors to heaven') and paifang (commemorative arches) that decorate the town.
Travelers will also enjoy the chance to bike ride around the picturesque villages of Xidi and Hongcun, areas recognized by UNESCO as World Heritage Sites. There will also be the chance to learn about penjing through a chat with a local gardener who will talk you through the artistry of his craft. Once in Hongcun you may also find out about why, and how, the village is laid out in the silhouette of a buffalo, with large trees representing horns and a canal network symbolizing the animal's intestines.
The China tour also takes travelers to visit the refined region of Chengshitang and the Mukeng Bamboo Forest which was featured as the backdrop for the exciting fight scene in the movie Crouching Tiger, Hidden Dragon between Li Mu Bai (Chow Yun-Fat) and Yu Jiao Long (Zhang Ziyi).
The last night of the journey includes a stay at the summit of Huangshan (also known as Yellow Mountain), which has been a source of inspiration for artists for centuries. Travelers will ascend the mountain by means of a cable car. The following morning, travelers will enjoy breakfast as they watch the sun rise over the surrounding landscapes, before descending to find a hot spring located at the foot of the mountain where they can bathe just as the emperors of yesteryear did thousands of years before.
"Many people will immediately think of movies when they think of China, especially iconic films like Crouching Tiger, Hidden Dragon," said Backyard Travel's General Manager Maeve Nolan. "This tailor-made China tour takes travelers to visit an area that's often used in Chinese cinema, especially for period movies. Anhui Province is a breathtaking region and contains some spectacular sites and villages, including the magnificent Yellow Mountains and the UNESCO villages of Xidi and Hongcun."
About Backyard Travel
Bangkok based Backyard Travel is an online travel company specializing in tailor-made tours to Vietnam, Thailand, Cambodia, Laos, Myanmar, Indonesia, Japan and China. For more information about Backyard Travel, visit http://www.backyardtravel.com or Facebook page http://www.facebook.com/BackyardTravel