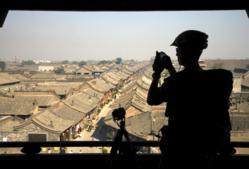 The guided tour takes travelers down China's path of evolution from an ancient culture to futuristic technology hub, examining both man-made and natural wonders along the way
Bangkok, Thailand (PRWEB) February 21, 2013
The epic 17-day, 16-night China tour begins in Guangzhou, passing through charming regions such as Kaiping, Xiamen and Gulangyu Island, before moving on to Yongding, Xidi and Hangzhou. Along the way, travelers will be able to trace the evolution of China, making stops at significant regions, taking in the diaolou of Kamping and the tolou of Yongding, two very different styles of community residence built for defensive purposes – and even stay in a tolou overnight.
The tour also allows travelers to take guided bike tours of the fascinating and visually stunning regions such as Guangzhou, Chikan, Xidi, Hongcun, and around the West Lake in Hangzhou, allowing the opportunity to soak up the atmosphere using China's most popular form of travel, the bike.
The tour of China then continues to Huanghsan and then Shanghai, to make the comparison between old and new, ancient and modern even more obvious. While in Shanghai, travelers will visit several key museums and parks to understand the busy city and its inhabitants. Travelers will also learn about the art of penjing in the city, also known as bonsai, from an expert gardener.
The tour then moves on to Pingyao, regarded by some as the perfect example of a preserved medieval city in China. Here travelers will also explore by bike, riding around the courtyard-style homes decorated by red lanterns. From the historical village of Pingyao the China tour then moves to Beijing, a city that's becoming more and more futuristic by the day.
In Beijing travelers will have the opportunity to visit the awe-inspiring Forbidden City and the lesser-visited Mutianyu section of the Great Wall of China, and even take a picnic perched atop the spectacular structure, as well as discovering the Summer Palace. Modern architecture studied in the city include the Bird's Nest Stadium, National Aquatics Centre (also known as the 'Water Cube') and the 'Big Pants' CCTV center.
"This China tour enables travelers to learn about the past, present and future of this intriguing nation through its fascinating structures," said Backyard Travel's General Manager Maeve Nolan. "The guided tour takes travelers down China's path of evolution from an ancient culture to futuristic technology hub, examining both man-made and natural wonders along the way."
About Backyard Travel
Bangkok based Backyard Travel is an online travel company specializing in tailor-made tours to Vietnam, Thailand, Cambodia, Laos, Myanmar, Indonesia, Japan and China. For more information about Backyard Travel, visit http://www.backyardtravel.com or Facebook page http://www.facebook.com/BackyardTravel.