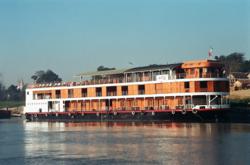 Travelers love the unhurried pace of river cruises; they appreciate less time on the road and more time in the fresh air...
Bangkok, Thailand (PRWEB) August 14, 2012
While there's plenty of excitement to be had traveling overland, taking to the rivers, canals and picturesque backwaters exposes an unseen side of a destination, promising travel experiences beyond the ordinary. In January this year, well-respected Travel + Leisure magazine featured cruises in their recent Most Important Travel Trends article, suggesting alternatives to lengthy ocean voyages and to "try wetting your feet with a river cruise."
Backyard Travel currently offers a variety of unforgettable boat tours in Asia. In Myanmar, their Cruise the Kingdoms tour traverses the country from Bagan to Mandalay, with an itinerary of visits to temples, river villages, and ancient stupas, immersing travelers in Burmese culture and history.
Aboard the luxurious RV Paukan, travelers are invited to enjoy Myanmar from the Irrawaddy River. As the Paukan cruises upstream, guests are treated to stunning water views from the wide decks of this elegant heritage-style vessel. After dinner, guests can enjoy cocktails in their stylish boutique cabin.
For travelers with time for an extended tour of Myanmar, the Irrawaddy to Inle Experience provides a deeper look into the country from its waterways. Starting from Yangon, this fascinating tour includes stopovers in lakeside and hill tribe villages, ancient Buddhist monasteries, five-star riverside resorts, with some nights spent on the RV Paukan and the unique sights of the leg-owing fishermen of Inle Lake and the jumping cats of Nga Hpe Chaung Monastery.
Vietnam is also ripe for exploration by boat. The Backyard Travel Saigon to the Delta tour delights travelers with the charms of southern Vietnam, cruising down the stunning Mekong River. Staying aboard the sampan-styled 'Song Xanh' and dining in a 19th century mansion, travelers can equally appreciate Vietnamese tradition and its colonial heritage all from the comfort of a boat.
Backyard Travel's Product & Operations Director Maeve Nolan says, "Due to demand, especially for cross-border trips from Vietnam's Mekong Delta into Cambodia, and for trips through Myanmar, cruise operators are expanding their fleets. Travelers love the unhurried pace of river cruises; they appreciate less time on the road and more time in the fresh air, enjoying not only the destination, but the journey itself."
In addition to cruises in Asia, Backyard Travel has a vast array of bespoke itineraries specifically designed to provide travelers with a unique cultural exchange, whatever the destination. To see the real Asia, book a Backyard Travel tour today – click here for the complete range of specialized tours.
ABOUT BACKYARD TRAVEL:
Bangkok based Backyard Travel is an online travel company specializing in tailor made tours to Vietnam, Thailand, Cambodia, Laos, Myanmar, Indonesia and Japan. For more information about Backyard Travel, visit http://www.backyardtravel.com. See their Facebook page http://www.facebook.com/BackyardTravel