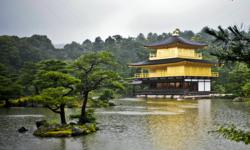 We hope this discount promotion, available on this tour when taken before the end of September, will help travelers enjoy this fascinating city and discover the beauty of scenic Kyoto for less.
Bangkok, Thailand (PRWEB) May 21, 2013
The four-day, three-night tour investigates the sublime elements of Japan's capital of culture and is now available with a 10% discount when the trip is taken before 30 September 2013.
Led by a local Backyard Travel guide, travelers on the tour will explore some of Kyoto's numerous World Heritage Sites, starting with Nijo Castle and its stunning surrounding gardens. The tour also includes a visit to Kinkakuji, the Golden Pavilion Temple, and the Daitoku-ji Zen temple complex which features one of Japan's most famous rock gardens.
The Kyoto tour also includes a tour of a local sake brewery to learn all about Japan's iconic alcohol and enjoy a taste testing session. Foodies and gastronomes will be delighted by a visit to Nishiki Market in the downtown area of Kyoto, a region nicknamed 'Kyoto's Kitchen', where tour participants can explore more than 100 shops and stalls while picking out ingredients for a private cooking class which will then teach travelers how to prepare sushi, miso soup and a seasonal dessert.
As well as exploring Kyoto, travelers will have the opportunity to enjoy a guided tour of Nara, a former capital of Japan renowned for its well-preserved temples and shrines. The trip includes a visit to Kasuga-taisha shrine, Kiyomizu Temple ('Pure Water Temple') and Todaiji Temple (commonly known as 'The Great Eastern Temple') which contains the world's largest wooden building, the Daibutsuden (Big Buddha Hall).
"Kyoto is the perfect place to understand the values, history and culture of Japan," said Backyard Travel's General Manager Maeve Nolan. "We hope this discount promotion, available on this tour when taken before the end of September, will help travelers enjoy this fascinating city and discover the beauty of scenic Kyoto for less."
About Backyard Travel
Bangkok based Backyard Travel is an online travel company specializing in tailor-made tours to Vietnam, Thailand, Cambodia, Laos, Myanmar, Indonesia, Japan and China. For more information about Backyard Travel, click here or Facebook page http://www.facebook.com/BackyardTravel