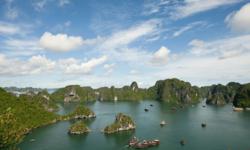 Halong Bay is a must-see destination and should be included on almost every travelers itinerary of Vietnam
Bangkokr, Thailand (PRWEB) November 27, 2012
The overnight tour of Halong Bay and its amazing karst scenery departs from Hanoi. Guests are driven through the everyday life of Vietnam as they head to the pier, observing villagers hard at work plowing their rice fields with buffalo. Upon arrival at Halong City, travelers then board a traditional wooden junk and set sail for their overnight journey into the 'Bay of Descending Dragons'.
According to legend, the thousands of tiny islands were formed by dragons sent down by the gods to protect the Vietnamese people from invading navies. The dragons began spitting pearls and jade to sink the enemy ships, which then transformed to become the islands and islets that dot the bay to this day. Over time, those same rock formations have been dubbed with creative names according to the shapes they have taken, such as 'Fighting Cocks', 'Elephant' and 'General de Gaulle's Nose'. The cruise will take guests past the iconic rock formations and floating fishing villages as it glides to rest at the most scenic spot in this UNESCO World Heritage site.
As the anchor is weighed, and before the sun sets, guests will then be invited to take part in a Vietnamese spring roll cooking class on the sundeck and learn precisely how to make this delicious snack. Appetites whetted, travelers will then get the chance to witness a sublime sunset over the bay, a truly magical experience, before being treated to a tantalizing dinner service. After dinner, guests also have the opportunity to watch the 1992 Academy Award-winning film 'Indochine', set in the 1930's, which features scenes shot around Halong Bay.
The next morning, after a peaceful night's sleep, guests are invited to join a morning Tai Chi class on the sun deck before the boat cruises its way back to Halong City. Travelers are then chauffeured back to Hanoi to complete the trip.
"Halong Bay is a must-see destination and should be included on almost every travelers itinerary of Vietnam," said Backyard Travel's General Manager Maeve Nolan. "It's important however, that the right cruise is chosen for each individual traveler and only reputable suppliers are used. We have chosen the best boats on the bay for our tailor-made programs."
This cruise to Halong Bay can be combined with any of Backyard Travel's tours in Vietnam and Southeast Asia to create a longer tailor-made break. Please contact Backyard Travel for more information and details of customized tours that can be combined with this relaxing cruise.
About Backyard Travel
Bangkok based Backyard Travel is an online travel company specializing in tailor-made tours to Vietnam, Thailand, Cambodia, Laos, Myanmar, Indonesia and Japan. For more information about Backyard Travel, visit http://www.backyardtravel.com or Facebook page http://www.facebook.com/BackyardTravel.