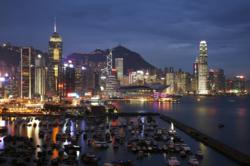 Now we are able to transport travelers into China's capital more conveniently and at a lower cost, enabling them to enjoy the best of Beijing, one of the most enigmatic cities in the world, combined with several days in Hong Kong
Bangkok, Thailand (PRWEB) February 05, 2013
The new seven-day, six-night tour begins in Beijing, China's capital city where culture crosses seamlessly with futuristic modernity, creating a curious contrast of past and present.
The bespoke tour begins at Temple of Heaven Park with an investigation of the city's many temples, covering a variety of religions.
The next day, travelers will then have the opportunity to see the awe-inspiring Forbidden City, one of the most majestic sites in the world, formerly a home to China's emperors which was lovingly restored to former glory for the Beijing Olympics in 2008.
While in the huge metropolis, the tour will also visit the most iconic attractions of Asia with a trip to a lesser-frequented Mutianyu section of the Great Wall of China. The early morning light cascading across the plains it was built to protect, provides the perfect opportunity for photographers to capture the moment, before they enjoy a pre-packed lunch atop the Great Wall.
Before flying on to Hong Kong, travelers can also spend time at The Summer Palace, a harmonious representation of Chinese culture and architecture complete with spectacular landscaped gardens. Finally, travelers can investigate '798', the buzzing art district which is fast becoming the center of Asia's up-and-coming movement in art and fashion.
Once in Hong Kong, travelers can learn all about the rich history of this now-Chinese territory which was formerly under British rule. An enigmatic city, Hong Kong's charm is accented by convenience and practicality, combined with a deep connection to ancient times. The tour begins with visits to some of the best markets on the island, including the Bird, Flower and Goldfish Markets of the Mongkok area, combined with a ride on the legendary Star Ferry and a trip to Taiyuan Street, famous for its toys.
The penultimate day of the tailored tour then takes travelers to trek around the scenic Shek O Country Park. The 'Dragon's Back Hike' was named by Time Magazine as 'Asia's Best Urban Hike' and covers approximately eight kilometers through bamboo groves and lush greenery, ending on the beautiful sandy beach of Tai Long Wan Village.
"China's tourism industry was given a boost at the start of the year with their introduction of the 72-hour visa waiver, and we've put together this tailored tour to take full advantage of the new legislation," said Backyard Travel's General Manager Maeve Nolan. "Now we are able to transport travelers into China's capital more conveniently and at a lower cost, enabling them to enjoy the best of Beijing, one of the most enigmatic cities in the world, combined with several days in Hong Kong."
About Backyard Travel
Bangkok based Backyard Travel is an online travel company specializing in tailor-made tours to Vietnam, Thailand, Cambodia, Laos, Myanmar, Indonesia, Japan, and China. For more information about Backyard Travel, visit http://www.backyardtravel.com or Facebook page http://www.facebook.com/BackyardTravel.