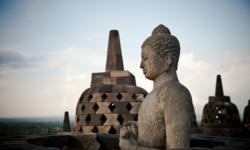 We hope this special discount we're available to offer will enable even more people to be completely inspired by Indonesia's sensational variety, friendly people and natural wonder
Bangkok, Thailand (PRWEB) May 16, 2013
The seven-day, eight-night tour enables visitors to experience the best of Java, Indonesia, moving through the country by train, car, 4x4 jeep and on horseback. Travelers will traverse a range of terrains, visiting temples and enjoying unique cultural experiences along the way.
The tour provides the opportunity for travelers to witness the process of batik production and even design their own pattern from scratch. There's also a tour of Sultan's Palace and the neighboring 'Taman Sari' gardens included in the trip, as well as a visit to the 9th century Hindu temples at Prambanan.
Mixing breathtaking nature and absorbing local culture, the tour also includes a sunrise tour of Mt. Bromo aboard a 4x4 jeep and a horseback ride to the crater rim of the magnificent (and active!) volcano. Adventurous travelers can also opt to make a 3km ascent of Mt. Ijen before heading to the beaches of Bali to round off the spectacular tour with sun, sand and sea.
The discounted Indonesia tour is available with a 15% discount when the trip is taken between now until 30 September 2013.
"This idyllic Indonesia tour gives travelers a fascinating insight into some of the elements that make the Southeast Asian nation such a fascinating destination," said Backyard Travel's General Manager Maeve Nolan. "We hope this special discount we're available to offer will enable even more people to be completely inspired by Indonesia's sensational variety, friendly people and natural wonder."
About Backyard Travel
Bangkok based Backyard Travel is an online travel company specializing in tailor-made tours to Vietnam, Thailand, Cambodia, Laos, Myanmar, Indonesia, Japan and China. For more information about Backyard Travel, click here or Facebook page http://www.facebook.com/BackyardTravel.