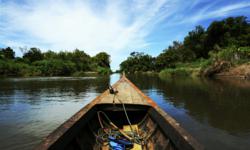 Asia is an awe-inspiring continent and offers an outstanding choice of places to visit, some well-known and some lesser
Bangkok, Thailand (PRWEB) June 03, 2013
Backyard Travel has unveiled five multi-country tours that are available starting today. Asia is a vast continent and offers an abundance of experiences and selecting one destination from so many awe-inspiring countries can sometimes prove impossible. This is why Backyard Travel has carefully crafted multi-country trips to offer travelers the best of two, three or even four destinations.
For example, on the Vietnam, Cambodia & Laos Discovery tour, Backyard Travel takes guests through the three awe-inspiring countries, giving them the opportunity to experience the uniqueness of each on a carefully planned 14-day trip. On their way from romantic Luang Prabang in Laos all the way through the must-see places in Vietnam to the spectacular Siem Reap, travelers will be treated to insider delights by expert local guides.
With expert insider knowledge from being based in all eight countries to which they provide tailor-made tours, Backyard Travel promises to show travelers inside Asia, with expeditions into the countryside and heartlands to meet and interact with locals and regional hill tribes. Indigenous tribes are a version of living history, and their preserved culture provides fascinating insights into the past of modern-day Asia.
"We are really excited about expanding our services to offer multi-country trips," said Backyard Travel's General Manager Maeve Nolan. "Asia is an awe-inspiring continent and offers an outstanding choice of places to visit, some well-known and some lesser so. No matter the choice of tour or destination, we're certain our new capability to provide multi-nation trips will awaken the imagination of every traveler."
About Backyard Travel
Bangkok based Backyard Travel is an online travel company specializing in tailor-made tours to Vietnam, Thailand, Cambodia, Laos, Myanmar, Indonesia, Japan and China. For more information about Backyard Travel, click here or Facebook page http://www.facebook.com/BackyardTravel.