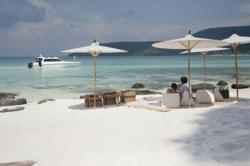 Certain beach destinations such as Phuket, Thailand are very developed, so for a quieter beach vacation, travelers are inquiring about more unique destinations.
Bangkok, Thailand (PRWEB) September 25, 2012
Asia has an abundance of paradise beaches and picture-perfect islands – there is literally one to suit every type of traveler. While some travelers prefer the excitement of more famous beach destinations, those who want a truly relaxing beach escape are exploring the lesser-known coastal areas of Thailand, Myanmar, Cambodia and Vietnam.
To meet demand for trips to more remote, undeveloped beaches, Backyard Travel offers unique luxury beach breaks in Asia's upcoming hotspots. Featuring the quieter islands of Con Dao and Phu Quoc in Vietnam, Song Saa Island in Cambodia, Ngapali beach in Myanmar and Koh Kood in Thailand, Backyard Travel's beach retreats give travelers a unique seaside vacation without sacrificing comfort or style.
Vietnam's Con Dao and Phuc Quoc Islands are the perfect balance of tradition and modernity. Remote enough to feel secluded and serene, yet developed enough for easy accessibility, these islands showcase the natural beauty of Vietnam's coastline, and provide glimpses of Vietnamese culture and history.
The Con Dao Beach Retreat is a 4-day/3-night break that whisks travelers from Ho Chi Minh City to the clear blue waters of Con Dao, staying at the Six Senses Resort. Guests can be as active or as idle as they desire, free to snorkel, kayak and hike, or just laze in the sun. The Phu Quoc Beach Retreat is just as indulgent, with 4 days and 3 nights at a luxurious beach resort, with plenty of time to explore the island, relax by the ocean, and sample fresh local seafood.
For a unique beach break in Thailand, the Koh Kood Beach Retreat offers ultimate luxury in an idyllic tropical setting. Koh Kood is a quiet, remote island with limited tourist access, making it perfect for travelers looking for exclusivity and serenity. Guests on this trip are transported to the island via speedboat, with 4 days and 3 nights to spend at their leisure, basking on the beach and enjoying the tranquil tropical ambience.
Cambodia's Song Saa Island in the Thai Gulf is tipped to be the next Koh Samui, mentioned in the New York Times as one of the 45 Places to go in 2012. For now, it's still a quiet tropical haven. The Paradise Found tour introduces guests to Song Saa Resort, a luxury retreat set in lush rainforest. Travelers can enjoy massage, snorkeling or simply sun-bathing by their private pool.
Travel in Myanmar is in high demand, but Ngapali Beach still offers respite from the crowds. The Ngapali Beach Retreat offers a unique look at Myanmar, treating guests to wide vistas of the Andaman Sea from an unspoiled stretch of coastline. Guests can pamper themselves with spa treatments or hire a longtail boat to explore nearby islands.
Maeve Nolan, Backyard Travel Product & Operations Director, says, "Certain beach destinations such as Phuket, Thailand are very developed, so for a quieter beach vacation, travelers are inquiring about more unique destinations. Thanks to the marketing efforts of such island resorts as Song Saa Cambodia and Six Senses Con Dao Vietnam, these lesser-known areas are becoming more popular, while still offering a beach holiday that's a little bit more special."
All of Backyard Travel's tours are private and can be individually tailored to meet the traveler's specific requirements. Click here to contact a consultant today.
About Backyard Travel:
Bangkok based Backyard Travel is an online travel company specializing in tailor made tours to Vietnam, Thailand, Cambodia, Laos, Myanmar, Indonesia and Japan. For more information about Backyard Travel, visit http://www.backyardtravel.com. See their Facebook page http://www.facebook.com/BackyardTravel