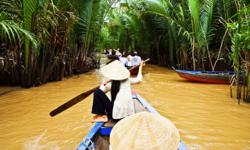 Inspired by Duras' novel, this trip allows literature lovers to gain a more comprehensive experience of her upbringing, as well as seeing the Sa Dec and Saigon that she describes so vividly in her captivating work
Bangkok, Thailand (PRWEB) January 30, 2013
The five-day, four-night tour transports travelers to a bygone era of the city now known as Ho Chi Minh. The trip provides the opportunity to investigate historical places that shaped Duras' formative years and also the locations she so poetically describes in the novel itself. Although the city may have changed considerably, much of the aura of Vietnam's largest city is as romantic as ever.
While in Ho Chi Minh City, guests can visit popular attractions like the Opera House, Continental Hotel, City Hall, the Post Office, Notre Dame Basilica, and Thien Hau Temple, as well as Reunification Palace, the capture of which marked the end of the Vietnam War in 1975. Travelers can also pay a visit to Le Quy Don High School and Testard Street where Duras studied and lived.
The tailored tour then moves on to Sa Dec by boat, stopping at Cai Be and Vinh Long on the way. While aboard the aptly named 'L'Amant' boat, the trip takes in the Tien Chau ancient Pagoda and also makes a stop at a traditional Vietnamese house to sample some mouth-watering tropical fruit for which the region is well-known for.
Travelers can also visit the former house of Duras' lover, Huynh Thuy Le (the affair with whom provided the romantic substance for 'L'Amant'), in Sa Dec, which has been converted into a museum, as well as his tomb.
The penultimate day of the trip will be spent in Cai Be, an old-fashioned town popular for its blooming flowers and cute bonsai trees. Lunch will be served once back aboard the boat, before travelers take a cooking class to learn some local Vietnamese specialties and delicacies while cruising back to Cai Be. Once the boat drops anchor, travelers will then spend their last night aboard the vessel, sleeping to the gentle sounds and rhythm of the Mekong River.
The final morning of the tour gives the opportunity to visit the Cai Be's popular floating market, which buzzes each morning with locals congregating to sell and trade their wares, before taking a tour of the network of creeks and canals that make up the region.
"This tour takes travelers to some of the most romantic spots of Ho Chi Minh City and the Mekong Delta," said Backyard Travel's General Manager Maeve Nolan. "Inspired by Duras' novel, this trip allows literature lovers to gain a more comprehensive experience of her upbringing, as well as seeing the Sa Dec and Saigon that she describes so vividly in her captivating work."
About Backyard Travel
Bangkok based Backyard Travel is an online travel company specializing in tailor-made tours to Vietnam, Thailand, Cambodia, Laos, Myanmar, Indonesia, Japan, and China. For more information about Backyard Travel, visit http://www.backyardtravel.com or Facebook page http://www.facebook.com/BackyardTravel.