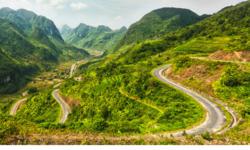 Backyard Travel is thrilled to offer travelers the chance to delve deep into the soul of Northern Vietnam with insider experiences
Bangkok, Thailand (PRWEB) November 08, 2012
The carefully crafted tour package whisks guests away to Vietnam's most northerly region, starting in the country's capital. This area of Vietnam features the highest mountain range in Indochina and is home to many indigenous hill tribes. Beginning in Hanoi, Vietnam's second largest city, the tour takes travelers to see the Ho Chi Minh Mausoleum, where the 'father' of modern Vietnam Ho Chi Minh famously read the Declaration of Independence in 1945. Also in Hanoi, guests are given the chance to visit the One Pillar Pagoda which was built in 1049 by King Ly Thai To to give thanks to the deity he believed helped with the birth of his son.
From Hanoi the trip heads to Sapa, home of several hill tribe groups. Guests on the tour will be able to take a walk around the surrounding green hills, rice terraces and valleys and visit the markets to barter with locals. With the Lien Son Mountain range overseeing the goings-on, travelers can haggle with the indigenous stall owners from the Red Dao, Tay and Black Hmong tribes.
From Sapa, the tailored tour then returns to Hanoi before taking an overnight boat trip to Halong Bay on a traditional wooden junk boat. The cruise takes travelers past imaginatively named rock formations to Halong Bay, a UNESCO World Heritage Site and one of the New7Wonders of Nature. The Bay contains some stunning limestone karsts, islands and islets surrounded by emerald-green water.
"Backyard Travel is thrilled to offer travelers the chance to delve deep into the soul of Northern Vietnam with insider experiences," said Backyard Travel's Operations and Product Director Maeve Nolan. "This luxury trip, like all Backyard tours, has been carefully constructed and stylized to include the most poignant experiences and attractions possible, including the priceless chance to see and interact with the indigenous hill tribes of the region."
About Backyard Travel
Bangkok based Backyard Travel is an online travel company specializing in tailor-made tours to Vietnam, Thailand, Cambodia, Laos, Myanmar, Indonesia and Japan. For more information about Backyard Travel, visit http://www.backyardtravel.com or Facebook page http://www.facebook.com/BackyardTravel.