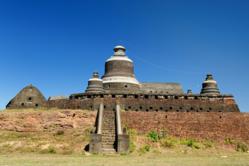 Destinations such as Laos, Indonesia and Myanmar still have many areas free of tourism, and as we are based in each destination we sell, we are able to research new areas first-hand.
Bangkok, Thailand (PRWEB) September 13, 2012
Asia is full of surprises: steeped in history and tradition, a trip through the region unveils a continuous contrast of modern against ancient. While there are classic not-to-be-missed touristic sites in every Asian destination, often it's off the beaten track that a country's true identity is revealed. To meet traveler demands for more authentic experiences, Backyard Travel has launched a range of 'Road Less Traveled' tours.
Each itinerary facilitates discovery of the 'real' Asia by tapping into the local knowledge of expert destination based consultants. Tours are specifically designed to include unique, authentic experiences – activities and interactions that allow travelers to better connect with communities and with the environment.
In Laos, travelers can get well and truly off the tourist trail with the Wilds of Laos trip. This 9-day journey takes travelers from Viengxay to Luang Prabang through stunning countryside. Offering insight into Laos history, this tour explores the hidden caves of Viengxay and visits a 16th-century Buddha statue at Xamneau. Jungle treks and mountain hikes uncover hill tribes, while a night safari allows visitors to observe local wildlife.
For unearthing the hidden treasures of Myanmar, travelers can join the Mrauk U: Hidden City tour. The perfect adventure for those with limited time, this 4-day itinerary departs from Yangon and traverses Sittwe and the Kaladan River to wind up in the beautiful countryside of Mrauk U. Here, travelers have time to explore the archaeological site of this 15th-century capital, with the option of adding a day to their itinerary to visit the nearby Chin tribe.
The Highlands of Guinea are a part of Asia that rarely catch the mainstream traveler's eye. In a 5-day tour of Japaypura and Wayema, travelers can explore the rarely-seen hill country of West Guinea, visiting villages and saltsprings. The Dani warriors here host a pig festival where traveles can eat with the tribe and participate in traditional song and dance.
"There's a common misconception that Asia is inundated with tourists, however this is not the case. Destinations such as Laos and Myanmar still have many areas free of tourists, and as we are based in each destination we sell, we are able to research new areas first-hand. Even our classic tours are designed in a specific way to provide travelers with access to main sights as well as offering insider experiences to give clients a more insightful trip."
All Backyard Travel tours are private and seek to enable personal engagement between traveler and destination. Tours can be customized according to the individual's wishes – for more information or to view all tours, click here.
ABOUT BACKYARD TRAVEL:
Bangkok based Backyard Travel is an online travel company specializing in tailor made tours to Vietnam, Thailand, Cambodia, Laos, Myanmar, Indonesia and Japan. For more information about Backyard Travel, visit http://www.backyardtravel.com. See their Facebook page facebook.com/BackyardTravel