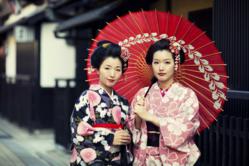 The travelers I've talked to are blown away by the elegance and beauty of it all. It's such a unique experience. You not only get to have a conversation with a real geisha, you have access to someone who can answer any question about a geisha's life."
Bangkok, Thailand (PRWEB) July 17, 2012
A geisha is an entertainer, usually female, who is a master of Japanese arts such as music and dance. Although not as widely practiced as in the past, the former capital of Kyoto in southern Japan remains the most prestigious and best city to witness a geisha performance.
"There is no guarantee you will see a geisha," said Hisae Komatsu, Backyard Travel's Japan Travel Specialist, "unless you are with a specialist guide."
Backyard Travel's expert guide is one of the foremost Western experts on geisha and all topics related to it. He has lived in Kyoto for more than 20 years, is married to a former geisha and lectures about the topic at Kansai University.
Backyard Travel's Discover Japan in Luxury features an evening at a geisha tea house in Kyoto's historic Gion district. From there, guests are treated to a unique atmosphere where drinks are served by the geisha or maiko (apprentice geisha) with traditional entertainment and dance being performed.
"The travelers I've talked to are blown away by the elegance and beauty of it all," said Hisae. "It's such a unique experience. You not only get to have a conversation with a real geisha, you have access to someone who can answer any question about a geisha's life."
By offering travelers a genuine geisha experience in Japan, Backyard Travel hopes that this traditional art can once again flourish whilst remaining authentic.
ABOUT BACKYARD TRAVEL:
Bangkok based Backyard Travel is an online travel company specializing in tailor made tours to Vietnam, Thailand, Cambodia, Laos, Myanmar, Indonesia and Japan. For more information about Backyard Travel, visit http://www.backyardtravel.com or 'like' the brand on Facebook at http://www.facebook.com/BackyardTravel