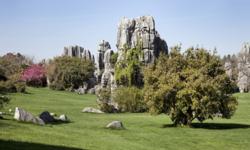 The guided tour takes fresh-air seekers out to visit the natural wonderlands of the Black Stone Forest and Yuanmou Earth Forest to see China's true beauty and that there's more to this diverse nation than big, bustling cities
Bangkok, Thailand (PRWEB) February 12, 2013
This concise three-day, two-night China tour takes travelers to visit the province of Yunnan's spectacular faux 'forests', named for their densely formed karsts that are closely grouped together resembling trees.
The tailor-made Yunnan Province tour also includes a visit to the Yuanmou Museum to see the remains of what some scientists believe is evidence that the area is actually the cradle of Chinese civilization, as well as visiting the Yuanmou Earth Forest where the remains were found.
"This China tour has been pieced together especially for nature-lovers and outdoor enthusiasts who crave a break from the big city," said Backyard Travel's General Manager Maeve Nolan. "The guided tour takes fresh-air seekers out to visit the natural wonderlands of the Black Stone Forest and Yuanmou Earth Forest to see China's true beauty and that there's more to this diverse nation than big, bustling cities."
About Backyard Travel
Bangkok based Backyard Travel is an online travel company specializing in tailor-made tours to Vietnam, Thailand, Cambodia, Laos, Myanmar, Indonesia, Japan and China. For more information about Backyard Travel, visit http://www.backyardtravel.com or Facebook page http://www.facebook.com/BackyardTravel.