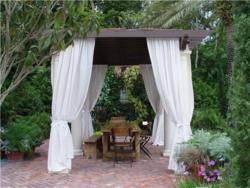 Backyard landscaping projects are on the rise...
Calimesa, CA (PRWEB) October 06, 2011
Online resource for landscaping industry professionals and consumers, http://www.LandscapingNetwork.com, reveals six growing trends for creating outdoor rooms. These backyard ideas cover innovative tips for creating living rooms, kitchens and more for small and large backyard spaces.
Backyard landscaping projects are on the rise as homeowners look for creative ways to entertain at home and expand on their property's usable living space. This list of today's six popular outdoor room styles includes helpful tips and information on how to create the look at home.
The six outdoor room types are:
1. Living rooms
2. Kitchen and dining rooms
3. Offices
4. Sanctuaries
5. Game rooms
6. Gardens
Explore the possibilities of these popular outdoor rooms. Each outdoor room type is accompanied by information to help designers and consumers choose the right type of room for the project at hand, including information on common features and location tips.
When designing an outdoor room, it's important that consideration be given to how each room is defined so that the overall flow and unity of the entire outdoor space is not disrupted. http://www.ConcretePatio.org offers five design tips for planning an outdoor room.
More information and design ideas on creating unique outdoor spaces can be found by visiting http://www.ConcreteNetwork.com .
Article photo courtesy of Maureen Gilmer. Attached photo courtesy of Shades of Green Landscape Architecture.
About LandscapingNetwork.com
http://www.LandscapingNetwork.com works with a team of professional landscape designers and writers to bring together the very best landscaping resources and information available. Homeowners, landscape designers and architects, builders and more can also stay up-to-date through the site's extensive collection of articles, landscaping photos and videos on landscape design ideas, products and more.
For consumers ready to turn their landscaping design dreams into reality, the site offers an easy-to-use Find a Professional directory to find local landscape designers and contractors throughout the United States and Canada.
###