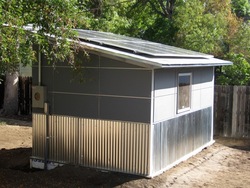 It's a wise investment that will continue to increase the value of your home.
Boulder, CO (Vocus) September 30, 2010
This September Studio Shed partnered with Denver's SolSource to design and install a highly functional, energy-efficient and charming workspace in the backyard of Gail Siegel's home in Lafayette, Colorado.
Gail Siegel, retired after 22 years with CU, is now a full-time jeweler specializing in precious metal which requires working with fire. Gail's home is a 100 yr. old timber-frame miner's cottage (that once belonged to the train master) which is not conducive to flammable projects.
I spent 18 months thoroughly weighing my options between renting a space for $500-$600/month, selling my home which I love and purchasing a larger home or building a backyard shed.
Once Gail came across Studio Shed, she saw immediately that it best suited her construction needs and was a cost effective solution. Gail decided to build a solar powered Studio Shed along with Denver's own SolSource.
Still concerned about the price, her brother put it simply "It's a wise investment that will continue to increase the value of your home."
The spacious 14' x 10' x 9' prefabricated Studio Shed features solar-power, electrical and plumbing. The exterior is built with FSC certified TruWood Collins Siding and corrugated metal, one large south-facing 3'x3' window to heat the foam-insulated cement floor, and north-facing horizontal and vertical window sets. SolSource custom designed and installed a solar system to fit the 11'x16' studio roof. The 9' high pitched roof is outfitted with a 1.9 kilowatt system comprised of eight 235-watt modules and microinverters that will power both the studio and Gail's home.
Based in Boulder, Colorado, Studio Shed guarantees a 3-4 week delivery and installation. Studio Shed's prefabricated panels use a variety of green building materials: FSC-certified dimensional lumber, recyclable aluminum-frame windows and FSC certified Collins Siding, and Low-VOC paint. The complete structure is engineered with absolute minimum waste.
Founded in 2004 and based in Denver, Colorado, SolSource is a solar design and installation firm providing solar electric, solar thermal hot water, and air heating systems nationwide. SolSource's experience covers commercial, business, government, school and residential projects. Its clients include Buckley Air Force Base, Fossil Ridge High School, the Pepsi Center, University of Colorado at Boulder, Blue Mountain Arts corporate office, and more than 500 residential homes, including the home of SolSource President, Jeff Scott.
For more information about Studio Shed, please call 888.900.3933 or visit studio-shed.com. For more information about SolSource, please call 303.297.1974 or visit solsource.com.
# # #