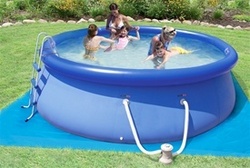 Americans seem to prefer to...invest their tax refunds in larger purchases that offer a better return on investment, like above ground pools, instead of spending on destination vacations
Beaverton, OR (PRWEB) April 15, 2010
After a steady twelve months of business, BackyardOcean.com expects their year-over-year sales to jump more than 20% after the April 15 tax deadline. Historically peaking around the month that most consumers receive their refund checks, the online retailer of quick set pools attributes spikes in their sales from mid-January through spring to consumers using their refund checks to purchase quick set pools.
"As consumers adjust discretionary spending, many reshape their travel plans," says Backyard Ocean spokesman Sasha Jacobs. "The popularity of the 'staycation' has risen over the last few years in light of a tighter economy. Americans seem to prefer to spend their money wisely and invest their tax refunds in larger purchases that offer a better return on investment, like above ground pools, instead of spending on destination vacations."
Mr. Jacobs says that Backyard Ocean believes that their quickset pools and intex filters are an economic alternative to in-ground pools and country club memberships, especially in regions where demographics are skewed toward lower-income families.
According to an April 2009 Gallup poll, 24% of consumers said they planned to spend their tax rebate (there is no poll showing for 2010). When asked why they prefer to receive a tax refund, 7% said they use it for a large purchase, which is 2% higher than those who use it for a vacation.
A May 2009 Gallup poll stated that 50% of respondents do not have summer plans, a 9% rise over 2008, and a 12% increase over 2006, strongly indicating that this summer, a higher proportion of consumers are planning to stay home during the typical summer touring months.
Backyard Ocean, who sells every above ground pool necessity from pool toys to type B pool filters, is preparing for another upswing in sales after the tax return deadline. They also project a continued rise in sales, as same Gallup poll shows that 33% of respondents say they expect their vacation plans to be impacted by the economy for longer than two years.
For more information, please visit http://www.backyardocean.com
About Backyard Ocean.com:
BackyardOcean.com is an online retailer for above ground pools and pool supplies. With their wide selection of pools and pool accessories ranging from large ring pools to pool toys, BackyardOcean.com is dedicated to bringing the summer fun of the beach to the backyard.
# # #