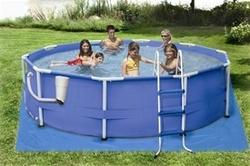 More American families are staying home for vacation
Beaverton, OR (PRWEB) May 26, 2010
Backyard Ocean™, premiere online retailer of above ground inflatable swimming pools, has expanded their line of frame pools in speculation that more Americans will opt for shorter daytrips or to stay at home in place of longer, costlier journeys.
According to a recent U.S. Travel Association article, international travel is down while domestic travel increases or remains steady. "More American families are staying home for vacation," says Sasha Jacobs, Backyard Ocean™ spokesperson. "Backyard Ocean™ believes that the rise in gas prices and unemployment, combined with fickle recovery of the economy, will oblige consumers to create a relaxed, fun atmosphere in their own backyards."
"Staycations" is vernacular for stay-at-home vacations, and ranges from exploring local offerings to remaining at home. During a typical trip, the American Automobile Association says the average American couple spends about $244.00 per day for lodging and meals, and a family vacation costs approximately $10,000 for a 10-day trip.
Even though the American economy has shown flickers of life over the past six months, the same U.S. Travel Association article states that there will be a 9% decline in international travel during the summer months, while domestic leisure travel has remained steady during the downturned economy. The Travel Association also states that many Americans are scheduling daytrips or weekend-long "staycations", rather than longer get-aways. In light of this fact, Backyard Ocean™ has expanded their line of frame pools in response to customer feedback for above ground pools. "We are supplying the demand," Ms. Jacobs continues.
The new line of frame pools includes a variety of features to help consumers make the most of their staycation. Twenty-seven gauge, marine-proof vinyl lines the pool wall, creating a tough outer layer that can support up to 11,000 gallons of water. The set includes two high-quality Intex pool filters and all the equipment a homeowner needs to maintain the swimming pool, along with a ladder and ground cloth.
Backyard Ocean™ expects consumers to spend less this summer, and to demand backyard above ground pools. To meet this need, Backyard Ocean™ provides high quality frame pools for family enjoyment all summer long.
Please visit http://www.backyardocean.com for more information.
About Backyard Ocean™
BackyardOcean.com is an online retailer for above ground pools and pool supplies. With their wide selection of pools and pool accessories ranging from large ring pools to pool toys, BackyardOcean.com is dedicated to bringing the summer fun of the beach to the backyard.
###