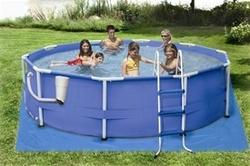 As the request for swimming pools mirrors the rising cost of gasoline, Backyard Ocean helps homeowners to save money
Beaverton, OR (PRWEB) May 24, 2010
Backyard Ocean™, premiere online retailer of above ground pools, announces the release of a new line of oval and elliptical pools to satisfy customer demand. As the request for swimming pools mirrors the rising cost of gasoline, Backyard Ocean™ is helping homeowners to save money by providing consumers with high-quality and inexpensive above-ground pools.
The company views this as a step in the right direction. "Customer feedback has shown us that homeowners are demanding more selection in their swimming pools," says Backyard Ocean™ spokesperson Sasha Jacobs. "Since the recession hit and gas prices began to rise, homeowners have been avoiding the high cost of the beach and are instead choosing family swimming pools." Not only this, Ms. Jacobs continues, but Backyard Ocean™ believes that consumers will select above ground pools, as in-ground swimming pools are more costly to install and maintain.
Marketing to this fact, the company has created a new line of oval pools and elliptical pools. These two new lines feature durable vinyl lining, convenient installation, and a variety of sizes. Also in the new package are an air pump, custom-fit pool cover, ground cloth, and replaceable pool filters. Free beach balls are included in every swimming pool set from Backyard Ocean™. Aside from these two new swimming pool lines, Backyard Ocean™ offers homeowners frame pools and ring pools, as well as pool toys, and maintenance and repair kits.
With the introduction of these two new lines of oval and elliptical pools, the company believes that sales will increase dramatically as the summer sets in, and temperatures rise. The company also speculates that the significant rise in gas prices, the highest since 2005 according to an MSN.com article, will create a shift in interest from beaches to backyards. Homeowners will not want to spend the money on food, travel, and gas if they have a swimming pool on their property, and Backyard Ocean™ believes that their inflatable swimming pool collections can beat the summer heat.
In this, Backyard Ocean™ hopes to provide consumers with an alternative, slightly green option to beach days. "Rising gas prices will make beaches a bust," says Ms. Jacobs, "They are often far, and sometimes difficult to reach." The company maintains that gas is a necessity, and beaches are a luxury. Although a family above ground pool is also a luxury, between mileage, snacks, and gasoline, it totals to be less costly than spending long days at the beach with an entire family.
Backyard Ocean™ provides homeowners with a variety of options for above ground swimming pools. With the two new lines out for the summer, the company also offers a greener and cost-effective alternative for beach days: opting for a family swimming pool.
About Backyard Ocean:
BackyardOcean.com is an online retailer for above ground pools and pool supplies. With their wide selection of pools and pool accessories ranging from large ring pools to pool toys, BackyardOcean.com is dedicated to bringing the summer fun of the beach to the backyard.
# # #