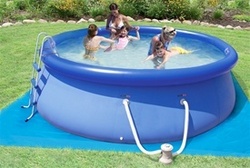 Purchases have increased...for our above ground pools. This is unusual...our season usually begins in mid-April.
Beaverton, OR (PRWEB) March 20, 2010
Homeowners associate the spring equinox with the end of winter and the beginning of summer, and for many this means taking advantage of the great deals at Backyard Ocean, online retailer of above ground pools and accessories.
The increasing popularity of above ground swimming pools as an inexpensive, fun, and safe alternative to family beach vacations benefits Backyard Ocean and homeowners. "As the Spring Equinox looms, consumers get antsy for the summer," says Sasha Jacobs, spokesperson for BackyardOcean.com. "Since the beginning of March, purchases have increased not only for pool necessities like our Intex pool filters B type, but also for our above ground pools. This is unusual," Ms. Jacobs adds, "because our season usually begins in mid-April."
Based on this trend, Backyard Ocean is preparing for a large increase in purchases for their quick set pools around the first day of spring 2010. Preparations include ensuring that company infrastructure is sound, customer service is made aware of the expected rush, and everyone is briefed on the latest swimming pool trends.
Ms. Jacobs is confident this preparation will ease the burden that high sales volume can place on customer service and is looking forward to smooth transactions for the expected spike in sales.
The company partly attributes this increase in sales to warm months starting earlier in locations such as southern California and Florida, where many early-season customers are located.
BackyardOcean.com offers one of the largest varieties of above ground swimming pools and name brand accessories available online. Their pools are easy to set up and come as complete kits, and pool owners can also find replacement goods for their pools, including the popular Intex pool filter cartridge.
Backyard Ocean offers a $25 discount on purchases of $300 and more. Use coupon code SPRING25, available until April 15.
For more information or to buy a pool, please visit http://www.backyardocean.com
About BackyardOcean.com:
BackyardOcean.com is an online retailer for above ground pools and pool supplies. With their wide selection of pools and pool accessories ranging from large ring pools to pool toys, BackyardOcean.com is dedicated to bringing the summer fun of the beach to the backyard.
###