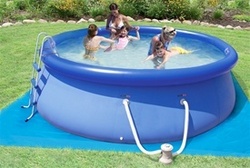 Rising temperatures mean lower costs at Backyard Ocean
Beaverton, OR (PRWEB) June 21, 2010
Backyard Ocean ™, a leading online retailer of above ground pools and products, is jump-starting summer fun as the days lengthen with their lines of swimming pools. Coinciding with the 2010 Summer Solstice, this coupon is a timely response to summer heat and longer days.
A recent United Kingdom research program declared that summer 2010 will see the hottest temperatures worldwide in 160 years due to the amount of carbon deposited into the atmosphere.
"To beat this heat, homeowners will retreat to the water," says Sasha Jacobs, spokesperson for Backyard Ocean ™. "They need to update their existing above ground pools, or purchase for the first time." With the days growing long and the temperature at record highs, above ground swimming pools will be the best way to cool off.
Rising temperatures mean lower costs at Backyard Ocean ™. In-ground pools sell for thousands of dollars, excluding cost of maintenance. Above ground pools are inexpensive, non-permanent alternatives to in-ground pools, making them a more prudent choice for contemporary homeowners. Backyard Ocean's most popular pool product is the above ground ring pool, which easily inflates so families can be swimming within hours, instead of days or weeks.
Backyard Ocean ™ also provides all the necessary equipment for maintaining an above ground pool. Intex pool filters are a high quality, well-known brand that supplies superior filtration. The best way to ensure cleanliness and sanitation in a pool, replaceable Intex pool filters Type B fit a variety of filter pumps, ensuring the health of the homeowner and their pool. Backyard Ocean customers have rated Intex pool filters Type B with a 5-star rating, giving this product the highest approval of any pool filter offered by Backyard Ocean ™.
To enhance the summer fun experience, Backyard Ocean ™ also offers a wide range of pool toys, kiddie pools, and other types of above ground swimming pool. Also offered just in time for the Summer Solstice are a number of deals on pools and pool equipment. "Backyard Ocean ™ wants homeowners to experience great savings this summer, since the economy has been rough on taxpayers," Ms. Jacobs emphasizes. This is why the company is offering free shipping on orders of $100 or more, alongside the aforementioned coupon, making summer deals an even hotter item this season.
The Summer Solstice means longer days and rising temperatures, temperatures that will be increasingly higher year after year because of air pollution and weather phenomena. Backyard Ocean ™ believes that homeowners need great savings along with great products, and so provide high quality goods that homeowners love.
For more information, please visit http://www.backyardocean.com
About Backyard Ocean™
BackyardOcean.com is an online retailer for above ground pools and pool supplies. With their wide selection of pools and pool accessories ranging from large ring pools to pool toys, BackyardOcean.com is dedicated to bringing the summer fun of the beach to the backyard.
# # #