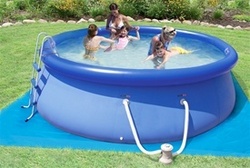 With...summer fast approaching, we've enlarged our line of ring pools
Beaverton, OR (PRWEB) June 8, 2010
Due to increasingly high demand for personal swimming pools this summer season, Backyard Ocean™, premiere online retailer of inflatable swimming pools, is expanding its offering of ring pools. "With more consumers staying home from the beach due to a slow economy, and with summer fast approaching, we've enlarged our line of ring pools," states Backyard Ocean™ spokesperson Sasha Jacobs.
According to Backyard Ocean™ consumer feedback, most homeowners purchase an above ground swimming pool immediately following Memorial Day. Backyard Ocean speculates the cause is the quick rise in temperature that comes with June, especially this year. Scientists in the United Kingdom have predicted that summer 2010 will see the greatest rise in temperatures worldwide since record keeping began 160 years ago, due to the ever-increasing amount of carbon released into the atmosphere, as well as one of the most extreme El Niños in recent decades.
On top of this, a May 24, 2010 New York Times article declares that one in eight public pools in New York were closed for health hazards. Expecting this trend to spread across the country, Backyard Ocean™ believes that consumers will turn to purchasing their own swimming pools, and there is no cheaper option for a personal pool than an above ground swimming pool.
Delivering more variety than ever, Backyard Ocean™ now offers new products in their quick set pool line. Backyard Ocean™ executives expect their inflatable swimming pools to be a hot commodity this season, as they are quick and easy to establish and maintain, and require minimum storage space. A part of their new line expansion is the oval pool.
Beach prices per car are also on the rise, with some topping $40 per day according to local research done by Backyard Ocean™. Because of these circumstances, the company believes that they will experience not only an influx of new clientele but also returning customers. Satisfied with their previous purchases, it is speculated that inveterate customers will buy other products from the retailer, including replacement pumps and filters for their currently owned inflatable swimming pools.
For more information please visit http://www.backyardocean.com
About Backyard Ocean™
BackyardOcean.com is an online retailer for above ground pools and pool supplies. With their wide selection of pools and pool accessories ranging from large ring pools to pool toys, BackyardOcean.com is dedicated to bringing the summer fun of the beach to the backyard.
###