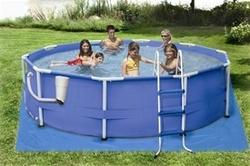 Pool parties are the ideal way for homeowners to offer a fun atmosphere to complement the excitement of the World Cup finale
Beaverton, OR (PRWEB) July 15, 2010
Backyard Ocean™, a leading online retailer of above ground pools, has special offers on their lines of pool filters and above ground swimming pools for hosting World Cup final game pool parties. Anna Reed, spokesperson for Backyard Ocean™, states, "Pool parties are the ideal way for homeowners to offer a fun atmosphere to complement the excitement of the World Cup finale."
According to the NY Times World Cup Blog, the final game will be between the Netherlands and Spain. Both are European countries competing for the first time in a FIFA World Cup final game, and also the first time a European team will win on non-European soil.
Also in the news recently are reports of record high temperatures in some areas of the US. Backyard Ocean™ suggests cooling off both tensions and fans with their line of inflatable pools.
Backyard Ocean™ also suggests homeowners who already own an above ground swimming pool use their Type A Intex pool filters to achieve maximum clarity and quality of their water, just in time for the final game. "Intex pool filters are among some of the highest quality filters consumers can purchase," emphasizes Ms. Reed, "Backyard Ocean™ offers them for $40 per pack of six." Backyard Ocean™ says that the Intex type A pool filter offers crystal clear swimming water and maintains maximum sanitation.
Backyard Ocean™ is providing pool owners the opportunity to stock up on cleaning supplies for their pool with free shipping on orders of $100 or more. "We want to celebrate the height of summer and the excitement of something that only happens every four years," Ms. Reed says of the World Cup sales the Company is offering. "Pools enliven the spirit of any party, and with temperatures so high, people need to stay cool."
For more information please visit http://www.backyardocean.com
About Backyard Ocean™
BackyardOcean.com is an online retailer for above ground pools and pool supplies. With their wide selection of pools and pool accessories ranging from large ring pools to pool toys, BackyardOcean.com is dedicated to bringing the summer fun of the beach to the backyard.
###