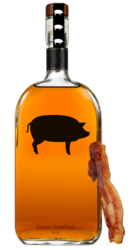 Oh, it's fantastic! It just has a subtle hint of it ... And everything's better with bacon" - Jimmy Fallon
San Francisco, California (PRWEB) February 06, 2013
Bacon Bourbon USA is a product that has taken the internet by storm. It has been mentioned in a myriad of social networks hundreds of times. Their self-deprecating site pokes fun at two of America's greatest obsessions – bacon & bourbon. While some have questioned the flavor mixture, many, including famous comedian Jimmy Fallon, say they have tried the combination and find it to be delectable.
"Oh, it's fantastic! It just has a subtle hint of it … And everything's better with bacon," says Fallon about an Old Fashioned including bacon infused bourbon.
Indeed, Bacon Bourbon USA's spike in popularity has been spectacular. Their website, which officially launched three short days ago has been growing in traffic with visitors from every U.S. state and countries as far away as Estonia and Argentina.
"We knew people would love our product," says a Bacon Bourbon USA representative. "What we didn't know is that it would grow so darn fast!"
The site, which features mostly jokes and strange quotes, also makes light of the competition between America & the Russia, stating things such as 'Russia doesn't have a Standard for this' and 'Bacon deserves better than to be thrown in a vat of vodka.'
A fan favorite on the site is a quote from President Lyndon B. Johnson, in which he proclaims, "A man can take a little bourbon without getting drunk, but if you hold his mouth open and pour in a quart, he's going to get sick on it."
As part of their branding process, the team has also announced plans to ask their growing fan base to help them choose the full final name using a poll which will soon be available on their website.
For more information about this product, visit Bacon Bourbon.