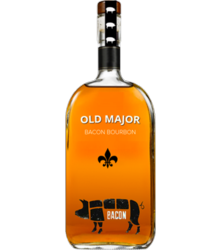 They make a bacon flavored bourbon?! My continued sobriety may be in danger.
San Francisco, California (PRWEB) February 11, 2013
Bacon Bourbon (now Old Major's Bacon Bourbon) had yet to hit the market when it received its first blast of viral traffic. On February 4th, the company's 'Coming Soon' webpage went live, and by February 6th, the site's servers were beginning to slow as a result of massive amounts of traffic. The four page website had gone from not existing to thousands upon thousands of visitors in a matter of days.
"We had to contact our web hosting company because it was taking as much as 40 seconds to reach the page since so many people were on at the same time," said an Old Major Bacon Bourbon representative.
The new website is far more expansive. It features a list of specialty bacon cocktails, a blog, and a media section which includes videos, images, and news, specialty cocktails.
The bacon cocktails each have clever names which revolve around their brand and its unusual ingredient – Bacon. They have drinks such as the Year of the Pig, Old Major's Fashioned, and Kevin's Bacon, a drink which has iced tea, maple syrup, orange rounds, fresh mint, and Old Major Bacon Bourbon.
This product has indeed become somewhat of a fascination around the internet.
A member of the popular social media network, Reddit, also known as the front page of the internet, wrote, "SHUT UP AND TAKE MY [expletive] MONEY!" Another on Twitter wrote, "They make a bacon flavored bourbon?! My continued sobriety may be in danger."
In fact, even notable food and beverage writers have taken notice of Old Major Bacon Bourbon. An editor of Specialty Food Magazine Tweeted, "This product has no chance of failing."
The Old Major Bacon Bourbon team is gearing up for their release date, which still remains undeclared, but until then, they say they will continue to promote and allow for their brand name to spread through social media and traditional marketing.