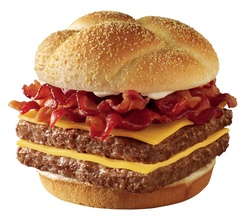 Awareness levels for the campaign are very high and branding is exceptionally strong. More than 2/3 of consumers surveyed in our research can immediately connect the Red Wig to Wendy's. Importantly, they are talking about our advertising and our brand again
DUBLIN, Ohio (PRWEB) August 29, 2007
Wendy's reported today that nearly 25 million Baconators have been sold in North America during the initial eight weeks it has promoted the sandwich.
"This is one of the most successful new product introductions we've had in some time," said Chief Executive Officer and President Kerrii Anderson. "With our double-melt hamburgers last year and now the Baconator, we're continuing to bring new news to the hamburger category. As a result, we're seeing significant sales gains in our core hamburger business.
"Not only are we driving hamburger sales and profits for Company and franchise restaurants, we are revitalizing the Wendy's brand through product innovation, more effective advertising and an intense focus on improving operations."
The Baconator packs a mountain of taste with six strips of hickory smoked bacon on top of 1/2 lb. of hot n' juicy beef with American cheese, ketchup and mayonnaise.
Wendy's has been promoting its fresh, never frozen hamburgers through breakthrough national television, online and cinema advertising, featuring an enlightened consumer in a Red Wig, who encourages others to make a better burger choice.
The new advertising campaign is clearly resonating with consumers, especially younger consumers 18 to 34, according to Company research and independent sources.
"Awareness levels for the campaign are very high and branding is exceptionally strong. More than 2/3 of consumers surveyed in our research can immediately connect the Red Wig to Wendy's. Importantly, they are talking about our advertising and our brand again," said Wendy's Chief Marketing Officer Ian Rowden.
According to TiVo Inc. research, Wendy's "Kicking Trees" commercial was the most watched television ad in June. New York-based IAG Research says the spot was the second most-liked restaurant ad released in the second quarter.
Wendy's International Inc. Overview
Wendy's International, Inc. (NYSE:WEN) is one of the world's largest and most successful restaurant operating and franchising companies.
Wendy's recently received brand, food and operations accolades from:
-- Zagat Survey(R), a leading global provider of consumer survey content, which recently named Wendy's as having the best hamburgers in the quick-service restaurant industry. In addition, Wendy's ranked first among quick-service "mega-chains" (i.e., those with at least 5,000 outlets) for food, facilities and popularity.
-- This year's American Customer Satisfaction Index (ACSI) survey, produced by the University of Michigan's Stephen M. Ross Business School, ranked Wendy's in the top spot for customer satisfaction in the "limited service restaurants" category.
-- QSR(R) Magazine's 2007 Consumer Survey recently rated Wendy's as consumers' favorite quick-service restaurant (QSR) for the second straight year.
More information about the Company is available at http://www.wendys.com.
The Wendy's name and design and Baconator are trademarks of Oldemark LLC and are licensed to Wendy's International, Inc.