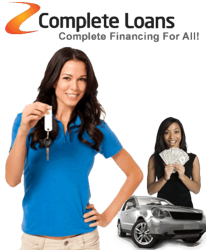 Their loan process was quick and easy.
Seattle, WA (PRWEB) December 06, 2012
Complete Auto Loans is providing a game changing service for the finance industry through a new online auto loan application process. The online application is available for both good and bad credit car shoppers. Complete Auto Loans has developed this new lending system to specifically cater to consumer needs for a fast approval process that works for both good and bad credit scores.
"Their loan process was quick and easy," says Jennifer of Seattle. "I was able to not only qualify for a loan in about 2 minutes but I was able to get the cash for the car I wanted in less then a day after I applied."
Complete Auto Loans is continually developing new strategies to help connect lenders to car shoppers through their vast network. Instead of trying to find a loan through a local bank or car dealership a consumer can skip the long lines and embarrassing feeling of being turned away from an auto loan by getting pre-approved in the comfort of their home.
Qualifications are simple. One just needs to own a computer, have access to the internet, and apply with the online application. Once approved the lender that best matches that persons needs will contact them to help them finalize their auto loan application.
About Complete Auto Loans
Complete Auto Loans provides national lending services for consumers looking for a new or used vehicle. Their application process accepts all types of credit, including no credit. They also provide student auto loans for individuals looking to get pre-approved for a reliable car for college.