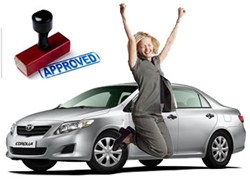 By getting pre-approved for a loan, they explain, shoppers are able to buy without surprises.
Seattle, Washington (PRWEB) June 28, 2013
"Does Getting Pre-approved For An Auto Loan Help?" is the title of Complete Auto Loans' latest consumer resource article. It shows how many are able to get better deals at car dealerships when they get their financing out of the way, before car shopping. By getting pre-approved for a loan, they explain, shoppers are able to buy without surprises.
The article explains that car buying can be almost like you have cash on hand, if you're buying when pre-approved. They elaborate, saying, "Having a pre-approved auto loan allows you to focus on the actual auto deal and not your personal finances. How you are purchasing the vehicle and your monthly payment is none of the auto salesman's business. Simply tell the salesman that you will not need financing and focus strictly on the purchase price. This allows you to concentrate on the actual vehicle."
CAL's article also mentions that sometimes salesmen will attempt to focus on monthly payments when people finance through a dealership. This leads to longer loans that cost more over time, long after the car bought has lost most of its value.
Complete Auto Loans is happy to share this and other great articles on its website. They know that an informed shopper is more likely to succeed in their financial goals. Without good financial advice, many would not be able to make the right decisions that lead to a stronger economy for everyone.
About Complete Auto Loans:
CAL provides bad credit auto loans online. Their unique finance platform can accept 100% of applicants, regardless of poor credit or even bankruptcy. By visiting http://www.completeautoloans.com, consumers are able to find the ideal loan for their personal financial situation, all through a quick and easy online process.