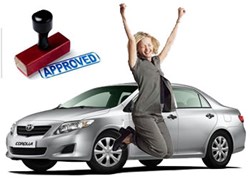 (PRWEB) June 05, 2013
Complete Auto Loans is opening up their product market to an even wider customer base as they announced today that they will be accepting all no credit check auto loans. Drivers from all over the United States will now be able to get the loan they need for the car of their dreams.
To learn more about their no credit check auto loans, visit this link.
Consumers with bad credit may want to look into a no credit check loan to save the embarrassment of being turned down for a used vehicle. The only catch to this type of loan is that they need to be aware that these types of loans often come at a higher interest rate. Complete Auto Loans encourages drivers to read more on attaining a no credit check loan on their website.
One happy customer states, "I went through a financial crisis a few years ago which left me with horrible credit. Thanks to the lenders at CAL I was able to get a loan without any credit history check."
About Us
Complete Auto Loans is a national auto and car finance lender in the USA. They help consumers find a low interest rate car loan despite their credit standing. Their custom auto lending system has been developed to specifically cater towards the consumers' needs for auto loans. Voted for best "quality Customer Service" they've service thousands of car shoppers. Their finance team is available to immediately help anyone choose the best loan program that fits consumer's budget guidelines.