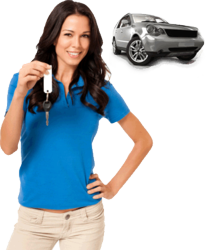 Valley Auto Loans connects consumers with the best auto lenders and helps them get approved for an auto loan quickly
Greenville, SC (PRWEB) April 20, 2013
Bad credit auto loan applicants all over the country can seriously brighten their qualification chance by applying online at Valley Auto Loans. This renowned online service platform is on its way to creating a zero rejection auto lending system for credit challenged car loan shoppers. The recently implemented car loan policy from Valley Auto Loans is now offering easy approval to more than 99% of their applicants regardless of their credit.
To get the best auto loan service in the country with bad or no credit, please visit https://valleyautoloan.com/apply-now2/.
Valley Auto Loans' new approval policy has the potential to make a long term impact on the country's auto lending market where most of the companies are rather indifferent in their approach towards the poor credit consumers. Valley Auto Loans is not only offering them easy approval, but is also offering facilities like incredibly low interest rate, super fast approval, and zero down financing.
In order to ensure continuous improvement of their performance, Valley Auto Loans has implemented a series of measures since the introduction of this credit approval policy. Talking about the company's long term goal, a senior official from Valley Auto Loans said, "At present our focus is completely on consumers who find it difficult to qualify for car loans due to poor credit. We are putting together lots of efforts to create a car loan platform that has the best deal for all bad credit car loan applicants."
About Valley Auto Loans:
Valley Auto Loans is one of the most renowned providers of national and local auto loans. The company understands that it can be embarrassing and frustrating to not be able to qualify for a car loan or student auto loan. Valley Auto Loans connects consumers with the best auto lenders and helps them get approved for an auto loan quickly.